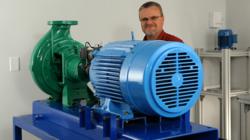 With his background turning wrenches...Stan Riddle is the real deal.
Richmond, VA (PRWEB) March 23, 2012
VibrAlign is launching a series of short videos about laser shaft alignment featuring trainer Stan Riddle. The first four videos in the series can already be viewed on the VibrAlign Youtube channel. These include "Introducing Stan Riddle", "ReAligning America", "Stan Switches Teams", and "Stan on Verti-Zontal".
Stan has more than 30 years of experience as a machinist and millwright, working for such companies as R. J. Reynolds, Weyerhaeuser, and Tyco. He is a certified Level III Vibration Analyst with the Vibration Institute, and is also experienced in infrared and ultrasonic inspection. Stan joined VibrAlign in 2008 as a Technical Trainer.
Over the years Stan has seen a lot and learned a lot about alignment. He brings all that experience to his teaching. Stan has also been a major contributor to http://www.TheAlignmentBlog.com, and is a regular contributor to http://www.EmpoweringPumps.com, where he serves as an Industry Pro.
When Stan trains companies on alignment, a portion of each class is spent on teaching VibrAlign's own method of correcting misalignment – called Verti-Zontal® – which allows for the vertical and horizontal adjustments to be made together in one pass, saving valuable time and ensuring accuracy the first time around. The result is that VibrAlign trained businesses have a clear path to realizing ROI from their investment in alignment. Additional videos will follow.
The "Stan the Trainer" video series is part of VibrAlign's commitment to helping businesses use their resources more efficiently and effectively.
According to David Zdrojewski, VibrAlign CEO, "Stan Riddle is the real deal. With his background turning wrenches he understands what it's like to be in the trenches. Stan has a unique way of imparting his knowledge about alignment, and we'd like to share that with anyone interested in precision alignment or interested in our goal of helping American industry get back on top."