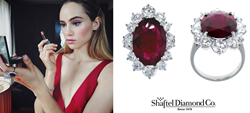 Shaftel Diamond Co. breaks into the Hollywood scene at the 2015 Oscars with stunning jewelry items
Los Angeles, California (PRWEB) February 25, 2015
Last week, stars from the year's top films "Birdman", "Guardians of the Galaxy", "Begin Again", "The Salt of the Earth", "American Sniper" and others, got a much anticipated appointment at Michael O'Connor's StyleLab Jewelry Suite during Academy Awards Week. Other celebrities, including Marisol Nichols ("NCIS"), Miss J. ("America's Next Top Model"), Kate Flannery ("The Office"), Adina Porter ("True Blood"), Maitland Ward ("Boy Meets World") along with some of Hollywood's top stylists and costume designers had the rare opportunity to borrow from over $30 million worth of jewelry for the Academy Awards and Oscar related events.
Among the top jewelry designers at the Jewelry Suite, Shaftel Diamond Co.'s pieces grabbed the attention of the event's attendees and could even be seen at the front row of the Oscars on Bradley Cooper's girlfriend, model Suki Waterhouse, who chose to wear a 9 carat ruby ring, valued at over $125,000, to complement her ruby red Burberry dress. More pictures of Suki and her beau, Bradley Cooper at the Oscars can be seen here: Daily Mail.
Actress Kate Flannery was also drawn to Shaftel Diamond Co.'s jewelry, selecting a pair of gorgeous earrings containing a pair of 10.01 carat blue sapphires with an additional 8.50 carats in fine white diamonds to wear at the annual Women in Film Pre-Oscars Party. These earrings have a retail value of more than $100,000. This is the second time Flannery has had the opportunity to view jewelry selections from Shaftel Diamonds.
Actresses Maitland Ward and Adina Porter were also spotted trying on an eye-catching pair of 17 carat total weight diamond earrings with natural fancy vivid yellow and fine white diamonds.
Other celebrities who tried on Shaftel Diamonds' jewelry included Breeda Wool, Miss J., Antonio Cupo and Kelsey Scott.
Keep an eye out for future red carpet placements from Shaftel Diamond Co.