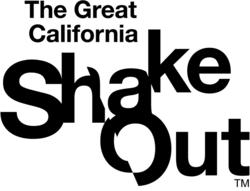 You can help your audience prepare now so they can survive and recover from the next damaging earthquake!
(PRWEB) September 30, 2011
As part of the 2011 Great California ShakeOut statewide earthquake drill, all radio and television stations are invited and urged to interrupt broadcasting at (or near) 10:20 a.m. on October 20th and broadcast a one-minute simulated earthquake, with sound effects and instructions on what to do to practice for an actual earthquake. An excellent community service, the Drill Broadcast will be listened to by millions as they conduct their ShakeOut DROP, COVER, and HOLD ON exercise, and includes instructions and earthquake safety tips. The Drill Broadcast recording is available in both English and Spanish.
Audio (and web-quality video) files: http://www.shakeout.org/drill/broadcast
Higher-resolution video files: http://www.shakeout.org/drill/tv
Stations should visit http://www.shakeout.org/drill/broadcasters.html, where they can complete a form to have their station listed on this page. This list will help ShakeOut participants find stations near them that will air the Drill Broadcast on October 20th.
In California, earthquakes happen daily, and scientists tell us it is certain that a major earthquake will strike California in the next 30 years. The ShakeOut was created in 2008 to help Californians prepare and practice how to protect themselves, and has since spread to other states and countries, including Nevada, Oregon, Idaho, Guam, and British Columbia, all which are also holding Shakeout drills on October 20th. Drill participation reminds and reinforces correct instinctual actions as an earthquake begins. As of today more than 7.8 million participants are registered in California alone.
ShakeOut organizing partners include the Earthquake Country Alliance, Cal EMA, Southern California Earthquake Center, FEMA, U.S. Geological Survey, California Earthquake Authority, American Red Cross, State Farm Insurance, and many others.
Remember: if you have not yet done so, please register your media outlet as a ShakeOut participant at http://www.shakeout.org. Your employees need to learn and practice how to be safe during earthquakes too! They will be needed to do their jobs after a major quake.
Visit the ShakeOut Media Center at http://www.shakeout.org/media/ to find events happening in your community.
Contact: D'Anne Ousley
(916) 325-3845 / ousleyd(at)CalQuake(dot)com
###