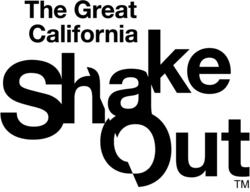 (Vocus) October 15, 2010
WHAT: Momentum is building for the "Great California ShakeOut" earthquake drill, in which participants will Drop, Cover and Hold On, to practice how to be protected from falling objects in an earthquake. With one week to go, more than 7.1 million have signed up for the second annual statewide ShakeOut. Individuals and organizations are encouraged to register at http://www.ShakeOut.org/register – it's not too late!
In addition, for the first time Nevada will join California to build awareness and practice how to respond in an earthquake.
WHEN: Thursday, October 21, at 10:21 a.m. (10:21 on 10/21)
WHERE: Throughout California. Events available for media coverage are listed at http://www.shakeout.org/media
Examples of major events include Drop, Cover, and Hold On drills and other activities at:

Burbank: Providence Saint Joseph Medical Center and Providence High School with California Emergency
Management Secretary Matt Bettenhausen and delegations from Chile and Turkey

San Jose: The Tech Museum with 400 school children and Insurance Commissioner Steve Poizner
Fullerton: Campus-wide drill and other preparedness events at Cal State Fullerton
Redlands: San Bernardino County Museum with hundreds of children and State Geologist John Parris
San Francisco: Drill/Exercise at San Francisco State University
WHO: This event is sponsored by the Earthquake Country Alliance, which is made up of the California Emergency Management Agency (Cal EMA), the Southern California Earthquake Center (SCEC), the United States Geological Survey (USGS), the California Earthquake Authority (CEA), the American Red Cross (ARC), the Federal Emergency Management Agency (FEMA), the California Department of Education, State Farm and many others.
WHY: The purpose of the ShakeOut is to practice how to protect yourself during earthquakes so you will know how to react when the next earthquake strikes. In addition, the ShakeOut drill encourages everyone to get prepared at work, school and home. All Californians are encouraged to prepare for earthquakes in advance by having a family plan, setting aside emergency supplies to last for several days and considering earthquake insurance to secure your property and finances.
For further information on specific ShakeOut events, resources, and updates visit http://www.shakeout.org/media/.
Contacts:
Mark Benthien, Earthquake Country Alliance / SCEC, 213‐926-1683
Susan Garcia, U.S. Geological Survey, 650‐329‐4668
Margaret Vinci, Caltech, 626‐395‐3298
D'Anne Ousley, California Earthquake Authority, 916‐325‐3845
###