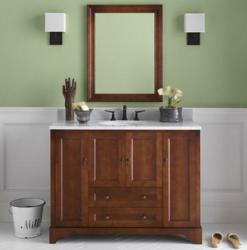 Shaker furniture reflects the shaker way of life: it's simple, functional, and made to last.
(PRWEB) June 01, 2013
HomeThangs.com – the Online Home Improvement Super Store has made it their goal to deliver the right product to the consumer. With that in mind, shopping and home design tips, as well as special product selections are being introduced.
In a time where manufacturers are capable of resurrecting any furniture design from almost any point in history, it isn't much surprise that some older styles are making a comeback. At the forefront in kitchen and bathroom cabinetry is a revival of the Shaker style. Shaker bathroom vanities in particular are finding a new home in warm, casual contemporary bathrooms, and HomeThangs.com has introduced a guide to making the most of their sturdy construction, simple lines, and warm wood tones.
The Shakers were am ascetic religious group that immigrated to America in the 1770s. Among other things, they were brilliant craftsmen and furniture makers. Their furniture reflected their way of life: it was simple, functional, and made to last. Though many more ornate and decadent furniture styles have come and gone since then, Shaker style furniture – including Shaker bathroom vanities – have made a major comeback in recent years. Their simple lines and high functionality matches nicely with a modern design and an overall more casual mentality.
Perhaps the defining characteristic of Shaker bathroom vanities is their simplicity. Made with simple lines, clear angles, and sturdy planks of wood, Shaker furniture is not complicated, but it's immediately identifiable. Typically, cabinet doors are framed with a raised rectangle of wood ornamented with very simple circular door pulls.
Like furniture made during the American Craftsman movement, Shaker furniture was made locally and by hand, with an emphasis on natural, locally-sourced materials. Contemporary Shaker bathroom vanities aren't often made by hand (very little furniture is these days, unfortunately), and can be made from material from a variety of sources depending on the manufacturer. But even with the changes of the last 250 or so years, Shaker furniture still heavily emphasizes the natural qualities of the wood used to make it.
In fact, because Shaker bathroom vanities put such a strong emphasis on natural materials and vibrant, golden wood tones, they make a very nice contrast to similarly minimalist vanities in a more modern style. While modern design is often a bit cool and even sterile, Shaker bathroom vanities add warmth and rustic country style comfort to a contemporary space, while still maintaining the sleek, polished finish and smooth straight lines of a more modern aesthetic.
One of the hallmarks of Shaker furniture is quality construction. Shaker furniture was so well made that their techniques are still widely used today. But even still, Shaker furniture in general and Shaker bathroom vanities in particular are really designed to last, with jointing designed both for stability and durability.
For more examples of Shaker vanities, or design tips on how to use them, read the full article here.
HomeThangs.com is more than just a Home Improvement Superstore. They're constantly seeking to provide homeowners and designers with the right products at competitive prices. With a wide selection of products, expert design tips, and comprehensive shopping guides, Homethangs is a company that's there at all stages of the design process, from idea to execution. It's their goal is to make dream remodels doable.