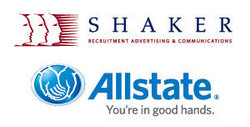 Together, Shaker and Allstate have built 3-D environments that allow for a unique candidate experience and direct insight into Allstate's entrepreneurial opportunities."
Oak Park, IL (PRWEB) June 9, 2010
Recruiters and job seekers will be closer than ever in this easily navigable, realistic 3-D virtual environment. Booths will be staffed with Allstate recruiters who will chat live with job seekers publicly and privately about Exclusive Agent and Personal Financial Representative opportunities available with Allstate. Candidates interested in becoming an Exclusive Agent will learn about exceptional entrepreneurial opportunities to be their own boss and run their own business, and candidates for Personal Finance will learn how to spend less time prospecting and more time selling financial services products to existing customers. Candidates will also have a chance to speak directly to Sales Leaders, as well as learn about possible financing opportunities. Additionally, they can submit resumes, attend auditorium presentations, and connect with other job seekers and recruiters in the virtual networking lounge. Even more attractive, it's free to register and attend.
In June 2008, Shaker began providing companies with a complete virtual career fair package - from development, training and support, to guidance, event marketing and post-event reporting - to attract talent by hosting their own virtual career fairs. "Shaker is excited about the continued opportunity to host Allstate's Virtual Career Fairs," says Tina Krater, Director or Sales at Shaker Recruitment Consultants. "Together, we've built 3-D environments that allow for a unique candidate experience and direct insight into Allstate's entrepreneurial opportunities."
"Last year, Allstate partnered with Shaker to host their very first exclusive, national virtual career fair and we experienced great success. It allowed Allstate to make use of the latest technology to find the right people for our Agent and Financial Representative opportunities," said Laura Stojkovic, Senior HR Consultant and project lead from Allstate Insurance Corporation. "We're excited to be hosting our 4th event this June 15th, as this has been a innovative and convenient way for our candidates and recruiters to come together and have a live chat, share information, or set up a phone interview."
To register for the virtual career fair, visit BecomeAnAllstateAgent.com or BecomeAnAllstateFinancialRep.com. To find out more about careers at Allstate, visit Allstate.jobs. For more information on virtual career fairs, please contact Mike Vogel at 708-358-0361.
About Shaker
Shaker Recruitment Advertising & Communications helps organizations realize their business objectives by connecting them with top talent through employer branding, employee and candidate communications, interactive media, campaign development, collateral and metrics. Shaker strategizes and manages recruitment and retention communications—from research and planning, to design and development, through placement and measurement—to foster employee engagement. Shaker is headquartered outside of Chicago. Visit Shaker.com to learn more.
About Allstate
The Allstate Corporation (NYSE: ALL) is the nation's largest publicly held personal lines insurer. Widely known through the "You're In Good Hands With Allstate®" slogan, Allstate is reinventing protection and retirement to help individuals in approximately 17 million households protect what they have today and better prepare for tomorrow. Customers can access Allstate products and services such as auto insurance and homeowners insurance through approximately 14,700 exclusive Allstate agencies and financial representatives in the U.S. and Canada, or in select states at http://www.allstate.com and 1-800 Allstate®. Encompass® Insurance brand property and casualty products are sold exclusively through independent agents. The Allstate Financial Group provides life insurance, supplemental accident and health insurance, annuity, banking and retirement products designed for individual, institutional and worksite customers that are distributed through Allstate agencies, independent agencies, financial institutions and broker-dealers. Customers can also access information about Allstate Financial Group products and services at MyAllstateFinancial.com.
# # #