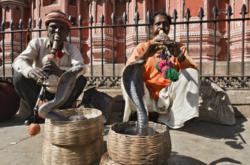 Pungi is a traditional folk music instruments used by the snake charmers of India to make snakes dance to their tunes
New Delhi, India (PRWEB) December 16, 2011
India shopping store ShalinIndia has launched the pungi's music instrument on the online marketplaces. Pungi is a traditional folk music instrument used by the snake charmers of India to make snakes dance to their tunes. This flute like music instrument has intrigued westerners. They have often wondered how snake charmers make the deadly cobras sway to the tune of their pungi music. Actually the cobra is deaf to the snake charmer's pipe, but follows the visual cue of the moving pipe and it can sense the ground vibrations from the snake charmer's tapping.
As a seller of Indian culture products, we are happy to do a commercial launch of the pungi, on the global online marketplaces. Two months ago we began to test market this Indian music instrument. When we found that a good number of people were not only attracted, they had also begun to buy these pungis, we decided to launch them on a commercial scale.
"Besides having clear business goals, we are trying to sell Pungis to achieve certain social objectives too. Snake charmers are no longer allowed to catch snakes. So this community is now looking for alternative sources of income. Selling their music instruments is one of them. Most of the snake charmers make their own Pungis using dried and hollow gourd. If we
succeed in achieving scale economies, we would be able to buy pungis from large number of snake charmers", said Shalini Verma.
We have launched two varieties of Pungis, one made from gourd, and the other made from coconut shell. Snake charmers generally use pungis made from gourd. However, this is very delicate and risks breaking at the joints with the flute like pipe. Pungis made from gourd often produce better quality sound than the one made with coconut shell. Pungis made from coconut shell are stronger and last longer. However, they produce inferior quality sound and are used only by the hobbyists.
ShalinIndia, one of the premier online India shopping stores, specializes in selling handmade gifts, silver and gemstone jewelry, clothing accessories like men scarfs and scarves for women to customers around the world. Through an arrangement with Amazon, ShalinIndia keeps its inventory in five countries US, UK, France, Germany, and Japan. This enables ShalinIndia to reduce not only delivery time but also shipping costs for its customers. ShalinIndia has maintained consistently high feedback ratings from its online customers.
###