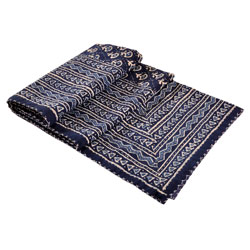 The workmanship that goes into making these bedspreads makes them one of a kind in the world.
New Delhi, India (PRWEB) October 20, 2011
Online India, ShalinIndia, has brought to the international online market bedspreads that make you feel cool in summer and warm in winter. Traditional and hereditary artisans of Rajasthan have handcrafted these unique bedspreads. The bedspreads are of double bed Indian size, which is equivalent to queen size in the US.
"We are very happy to launch our special bedspreads in the international online marketplace. These bedspreads are designed to give an "air-conditioning" effect. A special printing process helps achieve the effect. It consists of preparatory wash, resist printing, degumming and
dyeing. Rajasthan artisans use local clay or mud resist and white lime to achieve this special feel effect", explained Shalini Verma, founder of ShalinIndia.
"The bedspreads are also noted for their subdued yet vibrant color combinations. Rajasthan home furnishings craftsmen use natural colors derived from locally grown fruits and vegetables to achieve color effects pleasing to the eye. The fabric is hand-block printed in Indian traditional motifs and needle embroidery is done around the motifs. The workmanship that goes into making these bedspreads makes them one of a kind in the world", said Shalini.
"Our bedspreads look elegant and are functional. Two layers of fabric ensure that the fall is nice and the bedspread does not slip off the bed. The inner layer is made in coarse fabric and it holds
firmly to the sheet underneath. The bedspreads are easy to maintain and can be hand-washed at home. Since only natural color have been used in the prints, the bedspread does bleed a little in the initial few washes. Such initial bleeding of colors also give a stonewash effect, further adding to the beauty of the bedspread", added Shalini.
ShalinIndia, one of the premier online India shopping stores, specializes in selling Indian jewellery, clothing, decor and other cultural and traditional India gifts to customers around the world. Through an arrangement with Amazon, ShalinIndia keeps its inventory in five countries US, UK, France, Germany, and Japan. This enables ShalinIndia to reduce not only delivery time but also shipping costs for its customers. ShalinIndia has maintained consistently high feedback ratings from its online customers.
###