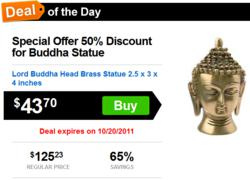 The bonanza includes free shipping and delivery in just 3 to 5 days in any part of the world.
New Delhi, India (PRWEB) October 18, 2011
Online India shopping store ShalinIndia has just started a new offer for its global customers – daily deal on three of its most popular products. The bonanza includes free shipping and delivery in just 3 to 5 days in any part of the world.
"For a long time we have been toying with the idea of starting daily deals offer. Initially we were hesitant to include this kind of offer in our overall business model. However, after considering customers' growing interests in daily deals, we too decided to embrace it. We will be offering three products everyday, one each from jewelry, clothing, and home and garden categories, as daily deals. The discount applied on the three products will be India jewelry – 30%, Indian clothing – 40%, and home and garden – 50%. We will ship the three items to the customers in 24 hours without charging any shipping fee, and deliver those items to the customer in 3 to 5 days. The offer also includes free gift wrapping of those items and hand written personal message", said Shalini Verma, founder of ShalinIndia.
"Everyday, at 4 pm India time we will activate our daily deals offer and close the offer for the day as soon as the three items put on daily deals are sold out. The three items we intend to put on daily deals will not be from long unsold inventory. They will actually be from our most popular products in the international online marketplaces", added Shalini.
ShalinIndia, one of the premier online India shopping stores, specializes in selling India gifts, cultural and traditional products to customers around the world. Through an arrangement with Amazon, ShalinIndia keeps its inventory in five countries – US, UK, France, Germany, and Japan. This enables ShalinIndia to reduce not only delivery time but also shipping costs for its customers. ShalinIndia has maintained consistently high feedback ratings from its online customers.
###