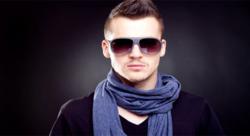 When wrapped around the neck, these scarves give instant feeling of warmth and comfort.
New Delhi, India (PRWEB) November 04, 2011
Online India shopping store ShalinIndia has brought to global online market its newly designed tapestry woven jamawar scarves for men. These men's scarves are made in pure soft wool and they do not give itching feeling that is so often experienced with wool fabric. When wrapped around the neck, these scarves give instant feeling of warmth and comfort.
"Our jamawar design wool scarves blend comfort and good looks. Jamawar designs are traditional yet timeless. Though the original designs were created around 18th century, they are just as much in fashion even today. The designs were first used extensively on women's shawls and scarves. The recent trend in India is to get those designs on men's scarfs too", explains Shalini Verma, founder of ShalinIndia.
"The designs in these jamawar scarves are in traditional Indian floral motifs. The designs are woven within the fabric. This requires great expertise on the part of the weavers. These scarves are often in subdued colors rather than bright, so they tend to go well with men's attire too", added Shalini.
"We are delighted to add these jamawar neck scarves to our portfolio of gifts from India. Winter is just around the corner and so is Christmas. We could not have had more appropriate time to launch our wool scarves. We are sure these scarves would make ideal men's gifts to own as well as to give during the coming holiday gifts season", said Shalini.
ShalinIndia's scarves can be bought online at its own store as well as on amazon in the US, UK, France, Germany and Japan. All items are available in the inventory and orders are delivered in 3 to 5 days in any part of the world. Small boutique owners too can order these scarves online at special wholesale prices.
ShalinIndia, one of the premier online India shopping stores, specializes in selling India gifts, cultural and traditional products to customers around the world. Through an arrangement with Amazon, ShalinIndia keeps its inventory in five countries – US, UK, France, Germany, and Japan. This enables ShalinIndia to reduce not only delivery time but also shipping costs for its customers. ShalinIndia has maintained consistently high feedback ratings from its online customers.
###