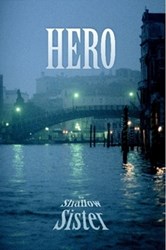 "It is primarily a love story but played on a knife's edge of sexual surprise … There is mystery, tension and suspense. Readers (can) look to be taken out of their comfort zones to travel where their hearts dare not to go."
ISTANBUL (PRWEB) February 18, 2014
Following the sexual endeavors of two characters named Leander and Hero, Shallow Sister's new book, "Hero" (published by Lulu), is a story of romance, self-sacrifice and regained sexual freedom.
Written as a contemporary erotic love story set during Venice Carnival, Shallow Sister's book is "a journey not just of the body but of the mind," she says. The story follows the two lovers as they navigate their relationship, uncovering truths about each other's damaged pasts.
"There are many layers to this book," Shallow Sister says. "It is primarily a love story but played on a knife's edge of sexual surprise … There is mystery, tension and suspense. Readers (can) look to be taken out of their comfort zones to travel where their hearts dare not to go."
An excerpt from "Hero":
"Leander stood up abruptly, placed money on the table for the service they received and told her they were going. She saw him glance at the collar and chain on the floor and make a decision to leave them. He took her coat, placed it over her shoulders, then opened the door for her to exit. He said no more and neither did she. On the ride back to the mainland he stood apart from her. He feared her power. He feared a loss of control. Somewhere, somehow she had usurped his authority. He felt raw and unclothed. He resented her for having found a burial ground in his soul and for now lying there in wait."
"Hero"
By Shallow Sister
Softcover | 6 x 9 in | 156 pages | ISBN 9781483407098
E-Book | 156 pages | ISBN 9781483407081
About the Author
Shallow Sister is a writer and blogger and lives in Istanbul. For more information, visit Shallow Sister's blog at http://www.theinnercirclemissives.com.
Launched in 2002, Lulu pioneered the self-publishing industry and paved the way for people around the world to publish books and bring them to market, while allowing authors to retain full control of their work. Operating a global network, Lulu provides worldwide distribution so that authors can reach readers just about anywhere via print, e-readers and tablet devices. For more information, visit http://www.lulu.com or call (888)-265-2129.