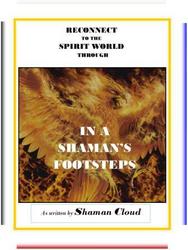 Heal the spirit ... the mind and body will follow.
Reston, VA (PRWEB) June 13, 2010
At no other time in history has a resource and reference on shamanism appeared in print by a natural born, 7th generation Native American Medicine Man. IN A SHAMAN'S FOOTSTEPS is in 'plain speak' authentic. Shaman Cloud reveals both the role and practices of a shaman, what shamanism is and what it is not, and how to test the limits of the human heart.
IN A SHAMAN'S FOOTSTEPS is a conversation between Shaman Cloud and the reader. Shaman Cloud shares his extra-ordinary and uber-sensory abilities to help us heal ourselves in restoring our mind-body-soul connection to Mother Earth and the Great Spirit. Now is the time to begin this journey to knowing the Shaman and walking IN A SHAMAN'S FOOTSTEPS on the Red Road.
Despite what neo-pagans and some faux shamans try to create, Shamanism is not a religion, though it is a religious practice. Cloud is a 7th generation born shaman. He did not "learn" to be a shaman. His grandfather spent 86 years working through that box of inherited knowledge and practice, and now Shaman Cloud has spent nearly a half-century doing the same, building upon the past in today's culture.
The Yantaho 'No More Tears' Foundation is a non-profit organization created to promote world peace among all people starting right here at home in our own backyards. Shaman Cloud was inducted into The Yantaho Foundation as an Honorary Trustee Member in 2009 by its Board of Directors. Shaman Cloud for all his life has tirelessly and continuously worked to promote peace and goodwill here at home and around the world. Peace can only be achieved through the healing of all nations. The healing of a nation begins one person at a time. As one person heals, then a family may come to know peace. If a family heals, then a community may know peace. Soon, nations are able to practice peace. As a person is healed from pain, a person becomes respectful of life and now knows to 'pay it forward' back to Mother Earth.
# # #