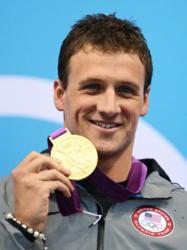 psychologists agree that having a lucky charm of any kind improves task performance
New York, NY (PRWEB) August 08, 2012
The latest Olympian to be spotted with a lucky charm is Ryan Lochte, who was photographed wearing a Howlite Shamballa bracelet while biting his just-earned gold medal. Throughout history great Olympic athletes relied on superstition and lucky charms to give them an edge over the competition. This trend continues on to this day with athletes like gold and silver winning U.S. rifleman, Matt Emmons, sporting a lucky four-leaf clover key ring, Bronx gymnast, John Orozco, relying on his pink and blue dinosaur charm, and many other swearing by their lucky charms. And there might really be something to these superstitions, as psychologists agree that having a lucky charm of any kind improves task performance.
The Shamballa bracelet has a long history of being used for spiritual purposes, helping deal with stress, and promoting inner tranquility – something that we're sure Lochte and every other athlete at the Olympics must have been trying to keep in control of.
The concept of Shamballa dates back to ancient times of Tibetan Buddhists that believed in a perfect kingdom of spiritually enlightened individuals. This kingdom of Shamballa (also written as Shambhalla) was only accessible to those who were spiritually balanced and enlightened - a state that's reached through much devotion to meditation and exploring the inner self. The Shamballa bracelets became a symbol of this kingdom; used as a tool for meditation and harnessing the spiritual properties of the kingdom itself – bringing a state of peace, tranquility, and happiness to the wearer of the bracelet.
Knowing the history of these bracelets it is no wonder that Ryan Lochte chose the Shamballa bracelet as his lucky charm for the Olympics. Dealing with all the stress, excitement, worry, and perhaps even self-doubt of competing against the best swimmers in the world, he wanted every tool available to get that extra edge over the competition – and the Shamballa Inspired bracelet was just what he needed.
OverstockJeweler.com carries Shamballa bracelets just like the one Lochte had worn when he showed off his gold medal from the 400 IM Final. These spiritual and fashionable bracelets are now available in a wide array of styles and made with different crystals, each emphasizing a different property and energy that it draws to the wearer. The bracelets have experienced much popularity as they've become favorites of celebrities like Kim Kardashian, Justin Bieber, Paris Hilton, Jennifer Aniston, and many more influential public figures.
Overstock Jewelers seems to have the largest selection of Shamballa bracelets on the internet. You don't have to be a world class athlete or a celebrity to afford one of these fashionable and spiritual bracelets – Overstock Jeweler brings you the gift of Shamballa at prices everyone can afford.