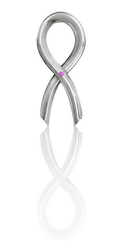 Phoenix, Arizona, U.S.A. (Vocus) September 5, 2007
In honor of National Breast Cancer Awareness Month, Shano unveils a tool that hopefully fixes more than divots.
Designers David and Katherine Shano are dedicated to helping the fight against breast cancer. They are involved in the Swing for a Cure, and the Susan G. Komen Foundation for breast cancer research. Through dedication and awareness, they believe that a cure is eminent. This exquisite Sterling Silver with pink sapphire divot tool is designed to honor the courageous women living with breast cancer, with the hope of ridding the world of this disease.
About Shano: Shano offers an eclectic collection of precious jewelry and timepieces. David and Katherine Shano, the two founders of the company, created Shano in 2002 as a luxury brand, providing unique and straight forward designs for the whole family to enjoy and pass on through generations
To see more Shano collections, visit http://www.shanodesigns.com/main.html or call Russ Wall at 480. 706.1688 direct or toll free at 1.800.310.7353.
Media Contact: Russ Wall
Direct: 480.706.1688
E-mail: rwall @ shanodesigns.com
© 2007 Shano Precious Jewelry and Timepieces
# # #