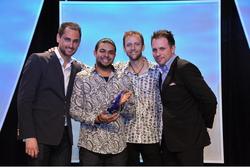 Welcome to the World of Carbon Copy PRO... "Our mission is to inspire and empower people to change their circumstances so they can live a life of their choosing"
(PRWEB) March 19, 2011
Smart entrepreneurs travelled from all over the world for a ONE day event held by the CCPRO group. The crowd celebrated and applauded as founders Jay Kubassek and Aaron Parkinson presented Shaqir Hussyin with the award in front of more than 1,000+ Internet Marketing entrepreneurs for the Master Marketing Award and for beating the all time sales record of selling most BlackBoxes in a single day. "This is an awesome and well deserved award for young visionary entrepreneur Shaqir Hussyin," Parkinson declared as cameras flashed all around them on stage in Vegas at the elegant Venetian hotel.
Carbon Copy PRO is the premium internet marketing community for all serious level entrepreneurs boasting over 10,000+ members that have utilsied the most cutting edge tools and strategies to build and grow their online empire, this crisp November day at the Venetian Hotel, Las Vegas, was a totally crazy day fun packed with value, marketing insights and life changing info that will change the marketing world forever.
To share the same stage as Simon Sinek, David Bach, Jay Kubassek, Aaron Parkinson and all the other Carbon Copy PRO top earner's was truly a blessing and a humbling experience. Shaqir says, "it's always been a dream to get on stage with all these guys, after all this community helped shaped me who I am TODAY."
To be promoted to the "L3" leadership level, a person needs to have at least 75 active, personally sponsored members. "During these last few months, my business has skyrocketed, and my students that signed up to be trained by me using the CCPRO system gained fast results, and consistent momentum in their online journey," says Hussyin. "I don't think I could have stopped it even if I had wanted to."
Recently announced Shaqir Hussyin is one of the leading trainers inside the marketing community, training up to 10,000+ entrepreneurs inside the CCPRO community. Students rave about the quality of insider training Shaqir exposes on the webinars from how to generate 400+ leads per day, how to use the http://thelucrativehomebasedbusiness.com/?t=PR-Web to bank $10k product sales.
Shaqir Hussyin reveals an exclusive opportunity for the readers of this special edition press release: "Spots are open for private mentoring by Shaqir Hussyin; serious candidates can complete a free application, and receive a complimentary 30 minute strategy session."
Grab your free report and bonuses by going here: http://thelucrativehomebasedbusiness.com/?t=PR-Web.
Hussyin, who has only been involved with Internet marketing for 2 years, has been dominating the CarbonCopyPro Leader Boards since this past summer where he has been moving between the 1st to 4th top spots in every sales category. He is neck in neck with top producers who have as much as a decade's experience in the industry under their belts.
He's generated over 400+ leads daily from PPC, SEO, & Social Media Marketing, to add to this this young marketing rockstar sold 27 BlackBoxes in less than an hour. No one in the entire marketplace had ever done this.
Shaqir Hussyin lives in London, focusing on high end consulting, speaking at marketing events, schools and corporate companies to help them exponentially boost their bottom line. A young globe-trotting entrepreneur armed with his Mac and iPad working mobile from beaches to coffee shops all round the world. Thanks to the Internet, he coaches his marketing students in 15 countries on five continents. For more information and to be part of this fast growing team of serious entrepreneurs, contact Shaqir via: http://thelucrativehomebasedbusiness.com/?t=PR-Web.
###