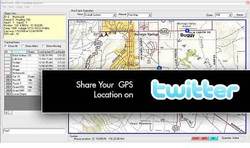 "The possibilities for broadcasting location information are only limited to your imagination." added Mr. Sonnenberg.Add a quote
Vista, CA (PRWEB) March 11, 2010
Raveon Technologies is proud to announce an update to its RavTrack PC AVL software that allows users to automatically broadcast their GPS position and location-based notifications directly to Twitter in real-time.
"Now that so many of our customers are using social media sites such as Facebook and Twitter, we thought they would love the ability to share their location directly from Twitter." said John Sonnenberg, CEO of Raveon Technologies.
With Raveon's GPS RavTrack AVL solution, users can create notification rules with a simple rule management engine to update Twitter once a vehicle or individual has entered a particular work zone, crossed a geofence boundary, or has arrived at their destination. Once the notification has been updated to Twitter anyone with a mobile phone or computer can be notified of the change in position.
Used in conjunction with Raveon's RavTrack AVL solution and Atlas PL (personal locator) solution, company vehicles and personnel can now easily share their position, which lends itself to an endless variety of applications such as reporting the location of bus fleets to notify riders or allowing race cars to broadcast their track position to racing enthusiasts.
"The possibilities for broadcasting location information are only limited to your imagination." added Mr. Sonnenberg.
For more information, visit Raveon on the Web at: http://www.raveontech.com.
###