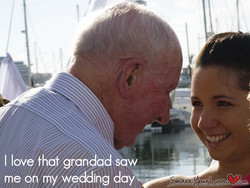 ShareYourLove.com is a daily celebration of what we love, to help the 884 million people worldwide who don't have access to clean water and sanitation.
(PRWEB) June 19, 2010
ShareYourLove.com is unlike many charity initiatives. Instead of asking for your credit card or spare coins they ask for photos of what you love. Users view peoples' loves from around the world and advertising on the site raises much needed funds for the global water charity WaterAid.
ShareYourLove.com allows anyone with an internet connection to raise funds for charity without using a cent of their own money. The images and stories are a unique collection, from heartfelt accounts of losing family to kids and animals destined for stardom.
ShareYourLove.com founder David Smerdon, 35, from Brisbane Australia says, "Most people want to do good but don't have the time or money to regularly contribute. ShareYourLove.com is a daily celebration of what we love, to help the 884 million people worldwide who don't have access to clean water and sanitation. The site always has interesting content and visitors are intrigued by what the world loves."
ShareYourLove.com was founded in February 2010 by David Smerdon. After 15 years working in advertising agencies he wanted to use his powers for good. Contact David for further information or an interview at dave(at)shareyourlove(dot)com. Any images can be used from http://shareyourlove.com/
###