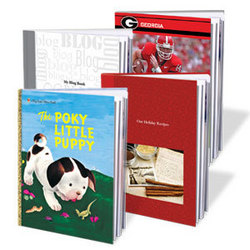 New York, NY (PRWEB) December 4, 2007
SharedBook Inc., the Reverse Publishing Platform provider, has partnered with several companies to offer a variety of unique, personalized on-demand memory books that can be given as gifts for the first time this holiday season. Several examples follow which give individuals the option to automatically generate a customized book that can be purchased immediately, or personalized further.
With Create-A-Cookbook from Allrecipes.com, cooks can easily compile collections of their favorite online and personal recipes as a gift for family and friends in professionally-printed book format. Users can choose from more than 40,000 recipes on Allrecipes.com and add their own recipes and notes, as well as the stories and photographs that make the foods special. Pricing begins at $24.99 in softcover and $34.99 for hardcover.
For the blogger, Blog2Print is a simple, yet meaningful way to archive blog posts in book format. Purchasers are given several options: to upload a cover photo to the book, create a book from all posts, or a specific date range, and to choose whether posts appear in reverse-chronological or chronological order. Blog2Print is compatible with blogs on Google's Blogger platform. Pricing begins at $19.95 for softcover and $24.95 in hardcover.
For students, alumni or fans of the Georgia Bulldogs, James Madison Dukes or Penn Quakers, a personalized FanBook would make a unique gift. With just one click, users can automatically flow their choice of content from the team's site -- news articles, player profiles and professional photographs -- into a customized FanBook product. The team roster and a schedule complete with results are also included in each book. Pricing begins at $34.95 for softcover and $39.95 in hardcover.
In each of the examples given above, individuals can also invite others into their private and secure personal book making space to contribute additional information if they choose. Therefore, friends and relatives can join in the book making process as appropriate. Those that are invited into the space can also make their own book from the shared assets.
Finally, here's a gift that spans generations. How about a personalized version of The Poky Little Puppy, one of the most popular children's books of all time, printed specifically for a special child? In just a few quick steps, users can write a custom dedication and upload a child's photo to the first page of the beloved book. Upon purchase, the book is then sent to the printer for on-demand output in laminated hardcover format. This book is available for $25 in hardcover.
Completed books arrive in 10-14 business days via free standard shipping. Expedited delivery options are also available for an additional charge. Friday, December 14 is the last day that customers can place an order to ensure holiday delivery with overnight shipping.
For last minute gift purchases, gift certificates will also be available to enable gift recipients to make their own books. Gift certificates can be delivered using two day or overnight delivery. Customers should allow one day for fulfillment.
About SharedBook:
SharedBook Inc. is a technology company that specializes in integrating and publishing data from various sources into a structured book product that can sit as a flipbook on the Internet or be professionally printed. The company's collaborative on-demand Reverse Publishing Platform allows users to extract data and content from multiple sources, manipulate it, and then distribute their unique creation in digital or hard copy format. SharedBook partners include Allrecipes.com, AYSO® Soccer, Boston Symphony Orchestra, The Canyons Resort, CarePages, Inc. (a division of Revolution Health Group), Cruise West Cruise Lines, Exposures, 4-H, JumpTV Sports, Legacy.com, Little League International®, The Officer Down Memorial Book, Inc., Random House, Inc., Regent Seven Seas Cruises, Sportography, Inc., Steamboat Ski Resort, 30 Minute Photos Etc., USA Football, YAVarsity.com, and Yosemite.
###