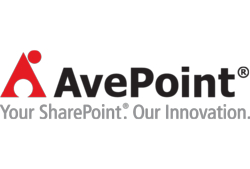 Since AvePoint first opened its doors on July 24, 2001 – coinciding with the first release of SharePoint – we have helped more than 8,000 customers worldwide innovate with SharePoint.
Jersey City, New Jersey (PRWEB) September 29, 2011
AvePoint, a proven leader in governance solutions for Microsoft SharePoint, today announced that it is a Platinum and Keynote Sponsor of Microsoft SharePoint Conference (SPC) 2011, taking place from October 3-6 at the Anaheim Convention Center in Anaheim, CA. AvePoint's sponsorship highlights the company's continued commitment to the global SharePoint community, and provides an opportunity to showcase the latest version of AvePoint's award-winning DocAve Software Platform, DocAve 6, as well as share proven practices for SharePoint success in multiple track sessions and demonstrations accumulated from its decade of devotion to SharePoint since the platform's inception in 2001.
"As the SharePoint community gathers on this momentous occasion, and platform adoption continues to spread across the globe, AvePoint is here to help organizations achieve maximum business value from their deployments," said Dr. Tianyi (TJ) Jiang, Co-Chief Executive Officer of AvePoint. "Since AvePoint first opened its doors on July 24, 2001 – coinciding with the first release of SharePoint – we have helped more than 8,000 customers worldwide innovate with SharePoint, and we look forward to empowering conference attendees with the expertise and solutions that increase business productivity, reduce total cost of ownership, provide IT assurance, and enable security and compliance for business content."
Throughout the entire conference, AvePoint's presence will include an exhibition booth (601) featuring demonstrations of DocAve 6, the enterprise-class management platform for SharePoint governance. Governance Automation, a new product that enables organizations to implement and enforce SharePoint governance policies, will also be introduced at the conference. Additionally, AvePoint will deliver joint demonstrations with Dell showcasing the companies' fully integrated SharePoint storage optimization solutions. Attendees can also chat with AvePoint's SharePoint experts in the expo hall and enter a drawing for a chance to win a Ducati Monster 796. For more information, please visit http://www.avepoint.com/spc2011.
On Tuesday, October 4, AvePoint will present four speaking engagements on topics both vital and relevant to the SharePoint community (Pacific Standard Time):

10:30 a.m.: Architecting and Automating SharePoint Governance by Dan Holme, SharePoint MVP and AvePoint Chief SharePoint Evangelist
1:45 p.m.: How We Built Community Site NothingButSharePoint.com by Jeremy Thake, SharePoint MVP and AvePoint Enterprise Architect
3:15 p.m.: Change Management: Preparing End Users for SharePoint 2010 by Dan Holme
5 p.m.: Governance Enforcement with Out-of-the-Box SharePoint and AvePoint's DocAve Platform by John Hodges, AvePoint Vice President of Global Account Product Management, and Toby Tobescu, Microsoft MTC Solution Architect
About AvePoint
AvePoint is a global technology company and proven software leader. Since its founding in 2001, AvePoint has become one of the world's largest providers of enterprise-class governance solutions for Microsoft SharePoint. Propelled by one of the world's largest SharePoint-exclusive research & development teams, AvePoint helps more than 8,000 customers – including many Fortune 500 companies and government agencies – meet their specific business objectives utilizing the SharePoint platform. AvePoint, Inc. is headquartered and maintains its principle engineering center in Jersey City, NJ, with wholly owned sales and engineering centers in the USA, Canada, Australia, United Kingdom, France, Germany, Japan, Singapore, and China. AvePoint is a Depth Managed Microsoft Gold Certified Portals and Collaboration Partner and Gold Certified ISV Partner as well as a US Government GSA provider via strategic partnerships.
All product and company names herein may be trademarks of their registered owners.
# # #