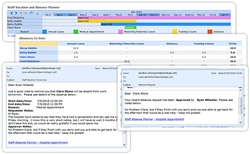 SharePoint is a great platform for organizations to build applications tailored exactly around their own business processes.
Cheltenham, England (PRWEB) August 3, 2010
To coincide with the vacation season SharePoint webparts specialists Pentalogic Technology are launching a SharePoint Staff Vacation Planning Toolkit, to help organizations manage staff absence planning smoothly during this busy period and throughout the year.
"SharePoint is a great platform for organizations to build applications tailored exactly around their own business processes." Says MD Ryan Wheeler, "Our tools give business users the power to do this without the need for any technical stuff like coding or programming."
"We wanted to give users some insights into just how far they could get in creating impressive applications using just SharePoint out of the box and our webparts. Staff Vacation and absence planning seemed like a good place to start, as it's something all organizations have to deal with."
The SharePoint Staff Vacation Planner Toolkit addresses all the key issues of staff vacation and absence planning within SharePoint and enables users to create:

An automated, paperless absence request and approval system. Managed via email.
An absence planning dashboard showing who is off when, updated in real time and available to all staff through SharePoint.
An "absences to date" dashboard for managers, and "My absences" for staff showing how many days absence have been taken in the current year, and ensuring absence entitlements are not exceeded.
"It's important to understand that this isn't a readymade application or template" says Wheeler "it's what we call a DIY toolkit. So users are going to have to put in a bit of work to get it set up. But once the work is done they should have an application that fits their organization's particular needs better than any off the shelf product ever could."
"And equally, because this is a Toolkit, once users have finished creating their vacation planner, they will still have a set of tools in the shape of our Planner, Reminder and PivotPoint webparts which they can use in many other capacities throughout their SharePoint deployment."
Pentalogic SharePoint Staff Vacation Planner Toolkit includes a step by step PDF guide and Single Server Licenses for Pentalogic's Planner, PivotPoint and Reminder Webparts. The Toolkit is available as a 30 day free trial version, or to purchase for the special offer price of $1500 - a saving of $600.
"We believe the Toolkit represents great value to money," says Wheeler "it will allow users to create their own tailor made SharePoint Vacation Planning system for around the same price as many off the peg templates with similar functionality. In addition users will also gain a set of tools that can be used to enhance the functionality of their SharePoint deployments in a host of different ways. We think it's the way forward for users who want to really take control of their own SharePoint deployment."
"We hope that all those SharePoint users still stuck in the office this month will have some fun trying out the Vacation Planner Toolkit - even if they're not on vacation themselves.
About Pentalogic Technology:
Pentalogic Technology design software for use with Microsoft SharePoint. Founded in 2005 Pentalogic are one of the longest established companies in their marketplace. Pentalogic's developers have worked with SharePoint since its very earliest days. Pentalogic's small range of products are each carefully designed and continually developed to address a specific need for SharePoint End Users. The aim is that each product should be "best in breed" in its particular niche.
###