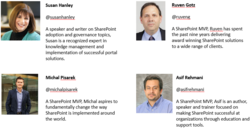 Convincing end users to adopt SharePoint can translate into big savings for a company!
Plainfield, IL (PRWEB) December 20, 2012
Rehmani Consulting, Inc, managed by Asif Rehmani, Microsoft® SharePoint® MVP and Certified Trainer (MCT), announces the immediate public availability of a recording of a webinar held on Wednesday, December 19, 2012 on the topic of SharePoint Adoption Strategies. This recording is available for viewing, without registration, on a page on the company's popular website, SharePoint-Videos.com
The topic of discussion for the webinar is not in regards to implementing a technical feature of SharePoint, but, rather, a presentation of strategies that should be considered by SharePoint stakeholders as they grapple with the task of hastening user adoption. Simply put, users that adopt SharePoint choose to tackle daily computing within SharePoint, rather than other available methods. As Asif Rehmani notes, "Convincing users to make this choice and to adopt SharePoint can translate into big savings for the enterprise that would otherwise pay a lot more to get these jobs done through other methods."
Asif Rehmani, himself, participated in the discussion as panel host and moderator. The 3 panelists included widely acknowledged experts on the topic of information architecture -- Susan Hanley, Michal Pisarek, and Ruven Gotz. Asif commented that "this webinar is a first step in a direction that we intend to pursue further in 2013. I think our industry needs to to a better job tying technical procedures to the successful attainment of business objectives."
About Rehmani Consulting, Inc.
Rehmani Consulting, Inc. focuses on partnering with organizations to make SharePoint initiatives successful and help them realize their return on investment. Throughout the years, Rehmani Consulting, Inc. has been serving and delighting hundreds of leading companies worldwide to help increase SharePoint adoption.
Please contact Michael Blonder, Business Development manager at Rehmani Consulting, Inc. for further information. You can reach Michael at mike(at)sharepointelearning.com or by telephone at +1 630-786-7026.