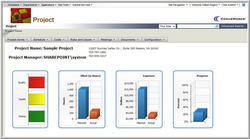 We are getting a tremendous response to our PPM application
Reston, VA (Vocus) April 15, 2010
CorasWorks Corporation, a leading provider of applications and application development software for Microsoft SharePoint, today announced the release of Version 1.3 of its Project Portfolio Management (PPM) application for SharePoint.
The most popular application from CorasWorks, PPM allows project managers and project teams to manage, track and report on individual projects; create and manage multiple portfolios of projects; and gain visibility, insight and control of all project-related activities through drilldown dashboards and reporting.
Version 1.3 builds on the successes of the previous version by adding a new and robust set of features to the application, including expanded project management office (PMO) capabilities, built-in hooks for mobility and improved sync features with Microsoft Project. With v1.3, users can now have multiple PMO sites within the PPM application – a change that allows for an Enterprise PMO and also multiple departmental PMOs.
The latest version also includes embedded configuration and other components that make it easier to mobile-enable the PPM application. This pre-integration makes PPM the first CorasWorks application positioned to leverage CorasWorks mobile technology, which is scheduled for release in the coming weeks. With the technology, users will be able to mobile-enable any CorasWorks app to support any mobile device, including iPhones, Androids, Blackberries and more.
One of the most popular features of the CorasWorks PPM application is its ability to integrate with Microsoft Project, based on TeamDirections' IntelliGantt add-on to Project. The integration provides for bi-directional synchronization of task information and work breakdown schedules. The feature allows project managers to manage their project plan in Microsoft Project and leverage the deeper feature set for planning projects. The PPM application is then used to perform on the project and govern the overall project environment across SharePoint.
Version 1.3 builds on this integration by adding pre-defined mappings of Microsoft Project fields to the CorasWorks PPM, including the ability to push Microsoft Project tasks to a PPM Project Site and a two-way sync of Tasks between a PPM Project Site and Microsoft Project. Users can also display Task successors and predecessor connectors in the PPM Project Site.
"We are getting a tremendous response to our PPM application," said Dan Naselius, Chief Operating Officer at CorasWorks. "Those using it—both customers and partners—have great ideas on how we can make it even better. We're then taking those great ideas, working them into the application and making them available to our existing customers and the market."
For more information on Version 1.3 of the CorasWorks Project Portfolio Management Application for SharePoint, visit http://www.corasworks.net/sharepoint/project_portfolio_management_app_for_sharepoint_pw.html.
About CorasWorks
CorasWorks is a global leader in applications and application development tools that drive immediate business value on Microsoft SharePoint. More than 1,000 organizations and 1 million users worldwide download and use plug-and-play apps from CorasWorks and our partners, and build their own applications without the cost and complexity of custom code using our comprehensive application development system. CorasWorks is a Microsoft Gold-certified Managed Partner headquartered in Reston, VA. For more information on our plug-and-play apps or our application development system, visit http://www.corasworks.net.
###