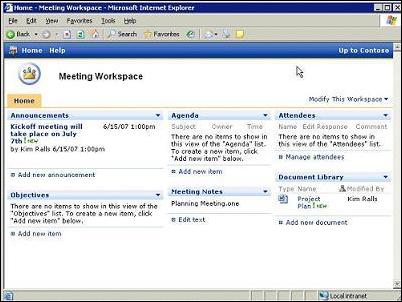 Hosted solutions are increasingly seen as the most sensible approach to bringing enterprise-class applications to small and medium businesses
Burlington, MA (PRWEB) January 11, 2007
groupSPARK, the leading Private Label Exchange Hosting provider, today announced the immediate availability of a hosted version of Microsoft SharePoint Services v3.0. Available through groupSPARK partners, this private label version will allow consultants, ISPs and Web hosting companies to provide their customers with the latest in collaboration technology.
groupSPARK partners continuously seek ways to bring new capabilities and greater value to their customers. The availability of SharePoint 3.0 for the first time as a hosted application will allow them to provide small and medium businesses with a secure, scalable - and affordable - enterprise-class portal for team collaboration.
"SharePoint 3.0 is a tremendous application for driving organizational effectiveness and companies of all sizes are seeking ways to put it to work for them," said Ravi Agarwal, chief executive officer of groupSPARK. "By providing our partners with a hosted, private-label version, they are able to bring the benefit of SharePoint 3.0 to a far wider range of companies."
By adopting SharePoint Services v3.0, businesses are able create customized collaboration portals that help increase team productivity, create an organizational community and give individuals more freedom and new capabilities. The result is that team members - regardless of their location - have the ability to access and work with relevant information.
groupSPARK offers partners hosted SharePoint Services v3.0 plans that are up to 10 GB of storage space which creates new revenue opportunities. Because groupSPARK manages the hosting and management of the SharePoint servers, partners and end-users get all of the benefits of SharePoint without requiring additional expertise or resources. "Hosted solutions are increasingly seen as the most sensible approach to bringing enterprise-class applications to small and medium businesses," said Agarwal. "Our partners are looking for new products and services they can offer to their existing customers while businesses seek ways to gain access to new and powerful applications. Our host model is meeting the needs of both groups."
About groupSPARK
groupSPARK is the leading provider of hosted services, such as Microsoft Exchange Hosting, Microsoft SharePoint, and Microsoft Dynamics CRM, that can be completely private labeled and resold by partners as a part of their own product offerings saving hundreds of thousands of dollars in development and support costs.
Its GAIN partners utilize its turnkey Private Label platform to provide hosted services to their users in minutes. Partners are able to address scalability and uptime concerns by leveraging groupSPARK's 100% uptime SLA, 24×7×365 support and proactive hardware and software monitoring capabilities.
groupSPARK, a Microsoft Gold Certified Partner, is a privately owned company. Headquartered in Burlington, Massachusetts it is the leading provider of Private Label Microsoft Exchange Hosting.
###