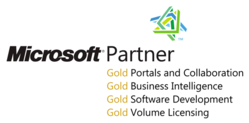 We are actively looking to establish strategic partnership with companies who want to rely on our expertise using our India facilities to build their local practice in the home country.
Ahmedabad, Gujarat, India (PRWEB) December 10, 2011
Bitscape, the technology consulting and Microsoft technology solution provider today announced it has achieved a Gold Portal and Collaboration, Business Intelligence, Software Development and Volume Licensing Competency and Silver Web Development, Digital Marketing, Content Management and Mid-Market Solution Provider Competency in the Microsoft Partner Network, demonstrating its ability to meet Microsoft customers' evolving needs in today's dynamic business environment. To earn a Microsoft Gold Competency, organizations must complete a rigorous set of tests to prove their level of technology expertise, have the right number of Microsoft Certified Professionals, submit customer references and demonstrate their commitment to customer satisfaction by participating in an annual survey.
Bitscape is India based global IT consulting services provider with extensive experience and expertise on Microsoft SharePoint Technologies. Bitscape is a team who won the recognition of Microsoft World Wide Partner of the year 2009 finalist for Office Solution Development Category for a SharePoint technology based solution delivered in to an end-client based at Los Angeles. Bitscape team have more than 14 years of end to end customer centric solutions delivery, software development, consulting, experience and is now looking to establish partner relation with various Microsoft Partners in different Geographies to ensure a new partnering model working.
"The multiple Gold Competencies differentiates us from the competition and establishes us as market leaders, further demonstrating our commitment to serving the needs of customers relying on Microsoft-based solutions," said Kartik Shah – CEO of the company. "We look forward to helping our customers and partners, be what's next by continuing to focus our areas of technology expertise in response to today's business needs". "We are also actively looking to establish strategic partnership with companies who want to rely on our expertise using our India facilities to build their local practice in the home country of theirs be it Germany, UK, UAE, USA, Canada, Spain, Australia or elsewhere and I take this opportunity to invite interested customers and partners to contact us" he added.
"The Microsoft Partner Network is designed to empower solution providers to succeed in today's business environment. By achieving the prestigious Gold competency, participating companies are provided with a rich set of benefits, including increased customer visibility through branding and accessibility, training and support," said Jon Roskill, Corporate Vice President, Worldwide Partner Group at Microsoft Corp. "We are proud to put forth a program that provides the right resources to help a company develop the expertise customers demand in today's competitive market and also provides the community and infrastructure that can connect them to one another, lowering costs for all parties."
The Microsoft Gold Competency signifies to the market that a company has demonstrated the highest level of skill and achievement within a given technology specialization. All 28 Microsoft competencies are designed to help differentiate a partner's specific technology capabilities, helping customers find solution providers quickly and easily. Each competency has a unique set of requirements and benefits, formulated to accurately represent the specific skills and services that partners bring to the industry.
Description of Competencies awarded to Partner
Business Intelligence
These partners are pros at delivering solutions that integrate with the technology you already have to provide business insight to everyone in your organisation—at a lower total cost of ownership.
Content Management
These IT experts have proven experience in using Microsoft SharePoint and other Microsoft content management solutions to help you efficiently and effectively manage your information—and make that information easy to find, share and use.
Digital Marketing
These partners are experts in developing rich Internet solutions on Microsoft SharePoint 2010 for Internet Sites, Microsoft FAST Search Server technology and the Microsoft Silverlight browser plug-in. Using a unified platform for intranet, extranet and Internet sites, they offer solutions that are highly functional, scalable, flexible and secure.
Midmarket Solution Provider
These partners are experts in providing solutions based on the most current technology to help midmarket businesses meet their unique challenges. They have a deep understanding of midmarket business processes, infrastructure needs and future growth costs.
Portals and Collaboration
Partners with this competency are experts in satisfying team and company-wide collaboration and connectivity needs across intranets, extranets and the Internet.
Software Development
These IT experts specialise in building powerful, customised, cutting-edge application solutions based on Microsoft technologies. Whether you want a cloud-computing solution to reduce overhead costs or a workflow solution to boost team productivity, these partners can help.
Volume Licensing
Acquiring and managing software licences can be complex and daunting. To simplify the process, these partners offer Microsoft Volume Licensing solutions and services. Not only can they help with your licensing decisions, they can help you get the most return on your IT investments.
Web Development
Deploying key business applications over the web can save you time, money and operational headaches. These partners are experts in delivering web-enabled deployment solutions that help you to run your businesses more efficiently and conduct transactions more effectively.
The Microsoft Partner Network is designed to equip organizations that deliver products and services based on the Microsoft platform with the training, resources and support they need to provide their customers a superior experience and outcomes.
Bitscape continue to focus on its mission to empower customers and partners to improve their bottom line by making technology work for them with complete transparent relation and non-competitive environment. We continue to strive hard to ensure early and successful implementation of all latest technologies for our client and mutual customers of ours with our partner. Some of the solutions technologies we have mastered are SharePoint Development, SharePoint Migration, SharePoint Upgrade, SharePoint Architectural Planning Services, Microsoft Business Intelligence, Database Development, SharePoint Development in Azure Cloud, Office 365, Windows Azure based Development, Data Mining, Web Development, Digital Marketing, offshore development India, portal development india and providing skilled offshore team to work on large projects. At Bitscape we understand its mutual business for us even when we work for end-client or for our partners end customers. Do contact us today to leverage the expertise.
For more information, press only: Attn: Alliance Manager – Email : info(at)bitscape(dot)com ; +91-79-65530689
###