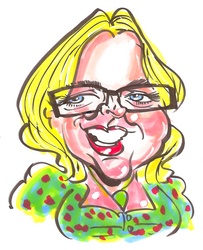 Ryan has very clear views on what he wants Pentalogic to be, for both our customers and the people who work here
Cheltenham, England (PRWEB) August 11, 2009
Pentalogic Technology: software developers specialising in web parts for use with Microsoft SharePoint, have appointed a new Marketing Manager.
Clare Stone joined the Cheltenham based company in July. Clare has a varied background in b2b and b2c marketing including work in financial services, commercial property and the travel industry.
"This is a new appointment for Pentalogic," says MD Ryan Wheeler "previously we have been very focussed on the programming and development side of the business. As we are planning to expand the business now seemed like the right time to invest in getting a bit closer to our customers. Though Clare has strong all round marketing experience her roots are in qualitative research, so she will be able to help us gain real insights into our customers, present and future, how they use our products and services, what they want from us and what they don't. We have a range of new product ideas on the drawing board and Clare's customer insight focus will help us to refine and prioritise these."
"The whole field of software marketing is new for me," says Clare, "so I am coming to the job with no pre-conceptions. Also, since I don't have a technical background I have something in common with many of our customers, who are SharePoint end-users. I think this will help in ensuring that we keep our products relevant to the business needs of non-technical SharePoint users and also that we keep our communication appropriate."
"Ryan has very clear views on what he wants Pentalogic to be, for both our customers and the people who work here," says Clare "It's all about service, relevant and focussed innovation and enjoying work. This is great because it means that we have genuine values and mission embedded in the business, laying the foundations for a strong and pervasive brand identity, which is so much better than having to create a corporate identity in a marketing-led brainstorming session! As a marketer I am bound to want to re-design a logo or two somewhere down the line, but in the meantime there is plenty of exciting and challenging work to do in terms of really getting to know our customers and ensuring that their needs are at the heart of our business expansion."
###