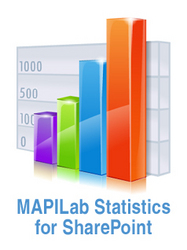 Seattle, WA (PRWEB) July 8, 2010
The MAPILab company is proud to announce the release of an advanced software - MAPILab Statistics for SharePoint 2010 – an efficient solution to create reports, analyze and audit web-portals and websites developed under the Microsoft SharePoint 2010 platform.
Microsoft SharePoint is a foundation platform for web-based applications, allowing teams to efficiently collaborate and share information, as well as to automate and streamline business processes.
In June 2010, Microsoft released its Office 2010 with Microsoft SharePoint embedded, featuring a lot of improvements.
In early 2008, MAPILab offered a reporting and analyzing solution for Microsoft SharePoint 2007. Obviously, a new version of Microsoft Office had required the compatible solution for reports and analytics. Accordingly, MAPILab released a new reporting solution compatible with Microsoft SharePoint 2010: MAPILab Statistics for SharePoint 2010 Beta.
The offered beta version has obtained a full range of functions and makes a perfect match with SharePoint 2010. With MAPILab Statistics for SharePoint 2010, one can create reports covering a variety of aspects, such as users and their activity, perception of content, usage of documents and list items. The reports concerning the usage of SharePoint search engine and also sizes and growth trends of databases will be coming soon - the final release is planned to October 2010.
Our existed users seeking solutions on how to migrate from MAPILab Statistics for SharePoint 2007 to MAPILab Statistics for SharePoint 2010 will be satisfied with the release.
If you want to receive a good discount for the Beta, please feel free to place a pre-order for the beta version of the software.
You can download 30-day free trial of MAPILab Statistics for SharePoint 2010 at the software homepage: SPStats.com. Our staff will be glad to offer online consultations regarding MAPILab Statistics and solve your technical issues, if any.
# # #