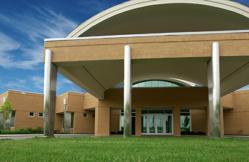 METS allows us to showcase a great event, and the state of the art center helps us make the day turn -key."
-Denise Bartick, MAX Technical Training
Erlanger, KY (PRWEB) March 09, 2012
NKU METS Center in Erlanger will be host Friday, March 16th to many IT professionals. The 2nd annual SharePoint Cincy event brings together a powerful mix of National and Regional thought leaders, Microsoft Certified Trainers, Microsoft engineers and Microsoft MVPs & MCMs all in one place. Over 300 IT professionals will hear from an impressive roster of regional IT leaders sharing their "success stories."
NKU METS Center is the perfect backdrop for the SharePoint Cincy event,"states Denise Bartick, event co-host and President of MAX Technical Training. "The facility allows us to bring together national speakers and local resources, along with talented IT professionals who will network, learn and spend the day with their peers."
Limited spots are still available for SharePoint Cincy. For more information or to register, visit: http://www.sharepointcincy.com.
NKU METS is a non-profit extension of the College of Informatics and Center for Applied Informatics at Northern Kentucky University. Its mission is to strengthen the local marketplace by providing a state of the art training, meeting and conference facility offering the latest in presentation and learning technology.