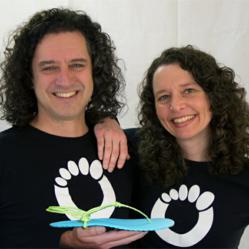 We're honored to be selected from over 30,000 entrepreneurs who applied to be on Shark Tank
Boulder, CO (PRWEB) December 31, 2012
Barefoot shoe company, Xero Shoes, is scheduled to appear on ABC's Shark Tank, on Friday, February 1, 2013 at 8:00pm ET/PT (7:00pm CT/MT).
Co-founders and husband-and-wife team, Steven Sashen and Lena Phoenix will pitch the "Sharks," five professional investors, hoping for an investment in their already successful minimalist sandal company.
Says COO, Phoenix, "We're honored we were selected from all the applicants." ABC reports that over 30,000 entrepreneurs applied to appear on their hit show. Phoenix adds, "Steven and I spent three years watching Shark Tank, rehearsing how we would respond to every comment and question. So actually walking down the Shark Tank hallway, standing in front of the investors, in person… well that was just surreal."
Xero Shoes CEO, Steven Sashen says they applied to the entrepreneurial reality show because: "We've helped tens of thousands of people experience the fun and benefits of natural movement that come with wearing our sandals. It was time to take our company to the next level. An investment – of both finances and business skill – from any of the Sharks is exactly what we need to do that."
Asked if they hoped to make a deal with any one Shark in particular, Sashen responded, "Robert Herjavec is a marathoner; Mark Cuban knows about the benefits of barefoot-style footwear; Daymond John knows fashion and footwear, Barbara Corcoran is a marketing genius, and Kevin O'Leary knows how to work with strategic allies… really, any of them would make a great investment partner."
Phoenix counters, not quite joking, "All of them would be even better."
Sashen and Phoenix had been sworn to secrecy about even taping the show, which they did in July, until ABC announced the upcoming schedule. "The hardest part of keeping the secret," says Sashen, "is when people spend 20 minutes telling us that we'd be perfect for Shark Tank!"
Phoenix adds, "We got good at saying, 'We think so, too!'"
Until the show airs, the couple is unable to say anything about the outcome.
"Our biggest hope," says Phoenix, "is that more people discover our product and decide to see why it's become such a big hit already."
"That," adds Sashen, "and that I don't look like a total dork on TV."
Sashen will be live Tweeting during the show from @xeroshoes and with #SharkTank