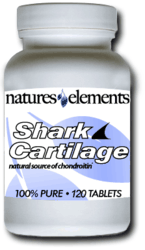 Thank you so much! The service was excellant and the price was very reasonable. - Donna
Lindenhurst, NY (PRWEB) August 22, 2012
The nutrients found in Shark Cartilage are essential for good health, and are required for the body to function properly. Calcium is needed to maintain healthy teeth and bones, and for good cardiovascular health. Phosphorus helps the body absorb nutrients, and is key for proper kidney function, heart rate, cell growth, and the maintenance of teeth and bones.
Shark cartilage is rich in chondroitin and mucopolysaccharides, which stimulate immune response and can be helpful for inflammation and the angiogenesis-inhibiting protein which blocks the formation of new blood vessels. These are the reasons that it is believed that shark cartilage can be beneficial for arthritis and many other ailments.
Nature's Elements has provided customers with several options for Arthritis and Pain Relief, such as Joint Formula, Relieve 1000 and now Shark Cartilage which is yet another choice for customers looking for the right solution to aid in their bothersome symptoms associated with Joint Pain and Arthritis.
Although Shark Cartilage is mainly targeted for Arthritis suffers it also is beneficial for those dealing with acne, psoriasis, eczema, and asthma. It also supports the body's immune system and aids in the body's natural defense system against free radicals and toxins.
Natures Elements Shark Cartilage has a minimum of 25% protein. The protein concentration is important in determining the benefit that the Shark Cartilage can provide. The serving size is also important to consider when choosing amount Shark Cartilage suppliers. Each bottle of Shark Cartilage from Nature's Elements contains a full one-month supply. The serving size is 1 tablet 4 to 6 times a day, each tablet containing 670 mg of Shark Cartilage.