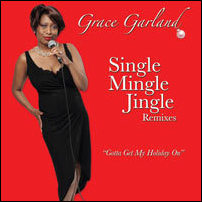 I'm hoping the song will remind that one person who really needs to hear it, that they too deserve to be happy and have a good time dancing and mingling during the Holidays
NEW YORK, NY (PRWEB) October 9, 2006 –
"Get Your Holiday On" this season with Grace Garland when she releases her first remix single Single Mingle Jingle, the holiday anthem for the single person, on Tuesday October 31, 2006.
Single Mingle Jingle will be released as a high-energy four-track maxi-single containing three remixes by New York City DJ and Remix Producer - Dr. Brooks together with the original album version of the song.
"I'm hoping the song will remind that one person who really needs to hear it, that they too deserve to be happy and have a good time dancing and mingling during the Holidays," exclaims Grace.
Grace Garland's debut album Lovers Never Lie (In Bed) featuring emotionally charged jazz-infused R&B tracks received much praise after it's release.
Grace Garland is known for such roles as Q's Mom (Omar Epps' mother in the Hip-Hop cult classic Juice); the voice of Aunt Debra in Bill Cosby's animated series Little Bill; Vera Vanderbilt on All My Children; Thicker Than Blood (TNT) with Dan Futterman; three seasons in the sketch comedy ensemble of the Apollo Comedy Hour (National Syndication) originating new characters as well as parodying everyone from Senator Hillary Rodham Clinton to Tina Turner; and the relationship therapist, Dr. Love in the romantic comedy 30 Years to Life starring former SNL's Tracy Morgan.
Grace Garland's Single Mingle Jingle Remixes and Lovers Never Lie (In Bed) are available from SharkMeatRecords.com, iTunes, eMusic, Zune, Yahoo! Music, AOL Music Now, MTV Urge, Wal-Mart Digital, Amazon and other major online retail outlets around the world.
Shark Meat Records is an independent record label based in New York City with a focus on alternative, pop and electronic artists. The label embraces the evolving music landscape by adopting the latest digital and online distribution, marketing and music technologies. Shark Meat Records is a member of the American Association Of Independent Music (A2IM).
Further info at
http://www.sharkmeatrecords.com
http://www.gracegarland.com
###