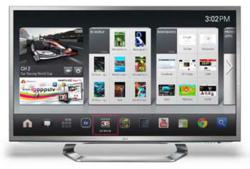 This year there are even more new TVs with 3D capability
Las Vegas, NV (PRWEB) January 12, 2012
CEAG Editors and Reviews continue to cover the new televisions being announced at the 2012 Consumer Electronics Show. "This year there are even more new TVs with 3D capability, " noted Reviewer Jack Burden as he surveyed the extensive list of 3D LED, LCD and Plasma televisions "3D is available on many more mid and low tier models".
Following are a few TVs the Editors note as fairly typical in the LED category for the year:
Phil Conner and Jack Burden report for the company on some of the new features Samsung has come out with a long list of new LEDs or 2012 such as the Samsung UN55ES7500 which they reviewed from the show floor. "Along with picture quality improvements, Samsung has added many new connectivity features to their top tier LED TVs"
Panasonic's line up of 3D plasma televisions has expanded in 2012 with only a single model in a single size that doesn't include 3D. CEAG editors looked at new models like the Panasonic TC-P65GT50 and the Panasonic TC-P50ST50 which replaces one of the most popular plasma TVs from 2011.
Along with an extensive lineup of new LED and LCD televisions LG showed new plasma TV models like the top tier LG 60PM9700 which won a CES 2012 Innovations Award for the new features like its improved black filter and low glare matte screen.
Sharp continues their push into the very large LED back lit LCD TV market with many new models in the 60" and larger size category like the massive 80 inch Sharp LC-80LE844U and the top tier 945 series in 60 and 70 inch sizes. "These massive LED TVs are replacing front projectors in some of the households that are purchasing them" said CEAG reporter Phil Conner.
Consumer Electronics Advisory Group Inc. operates several premier buying guide websites, including plasmatvbuyingguide.com, and lcdtvbuyingguide.com, among others. Online since 1999, the company provides objective and thoroughly researched information through professional reviews performed by seasoned reviewers. Editors Robert Wiley and Jack Burden have been reviewing televisions since the first commercial plasma TVs hit the market in year 2000. ISF calibrator John Wirtz has been calibrating televisions professionally for 10 years. The company adheres to strict testing guidelines using the highest caliber equipment. Company web sites have more than 15 million unique visitors each year in the fast growth consumer electronics industry.
###