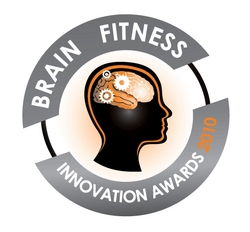 We are witnessing a mental health and brain fitness revolution in the making, likely to transform the way we live and work no matter our age
San Francisco (PRWEB) March 31, 2010
SharpBrains, a leading market research company and think tank that tracks cognitive and emotional health research and commercial applications, today announced the launch of the inaugural Brain Fitness Innovation Awards. The first of their kind, the Brain Fitness Innovation Awards are designed to foster innovation and best practice sharing in the emerging brain fitness field by celebrating outstanding pioneers who apply neuroplasticity-based research and tools in the "real world".
"We are witnessing a mental health and brain fitness revolution in the making, likely to transform the way we live and work no matter our age," says Alvaro Fernandez, CEO of SharpBrains. "These new Awards are meant to recognize trailbrazers with a passion to take the popular brain fitness concept "use it or lose it" to a whole new level thanks to emerging research and tools."
The awards will recognize organizations that are devising and implementing results-oriented and scalable initiatives that demonstrate their commitment to the brain fitness of their clients, members, patients, students or employees, and showcase innovative uses of non-invasive tools to improve cognitive and emotional functions and "real-world" outcomes. Award Winners will be announced on May 24th, 2010, during the SharpBrains Summit on the State of the Brain Fitness Market. May is Mental Health Awareness Month.
Judges are:
o Alvaro Fernandez, Co-Founder of SharpBrains
o Baba Shiv, Professor at Stanford Business School
o Bill Tucker, Managing Director at Education Sector
o Brian Murphy, President of De Anza College
o Charles Jennings, Director of the McGovern Institute Neurotechnology Program, MIT
o Chuck House, Executive Director of Stanford Media X
o Colin Milner, CEO of the International Council on Active Aging
o Elizabeth Edgerly, National Spokesperson for Alzheimer's Association "Maintain Your Brain"
o Gloria Cavanaugh, Former President of the American Society on Aging
o Kenneth Kosik, Co-Director of UC-Santa Barbara Neuroscience Research Institute
o Margaret Morris, Senior Researcher at Intel's Digital Health Group
o Nigel Smith, AARP Strategy and Planning Director
o P Murali Doraiswamy, Head of Biological Psychiatry at Duke University
o Rod Falcon, Director of Health Horizons Program at the Institute For The Future
o Stephen Macknik, Lab Director at Barrow Neurological Institute
o Susan Hoffman, Director of OLLI @ Berkeley
Prizes

1 Grand Prize Winner will receive a $2,500 check, and other benefits
2 Silver Prize Winners will each receive a $1,000 check
7 Finalists will each receive a $250 check
Main Dates
o By April 15th: All entries collected
o By April 30th: 10 finalists selected
o By May 15th: Winners selected
o May 24th: Winners announced at the SharpBrains Summit - The State of the Brain Fitness Market
More information and How to Apply
Please visit page: Brain Fitness Innovation Awards.
About SharpBrains
SharpBrains is a market research and think tank devoted to helping companies, health providers, investors, policy makers and individuals navigate the brain fitness and cognitive health field. The company was co-founded by Alvaro Fernandez, member of the Council on the Aging Society run by the World Economic Forum, and Dr. Elkhonon Goldberg, internationally renowned neuroscientist. In 2009, SharpBrains released the report The State of the Brain Fitness Software Market 2009, and published the first-ever brain fitness consumer guide, The SharpBrains Guide to Brain Fitness. For more information, visit http://www.sharpbrains.com.
###