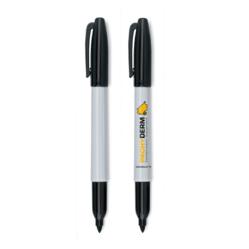 Seattle, WA (PRWEB) July 19, 2012
1234 PENS has recently launched its newest selection of Sharpie Promotional Marker Pens. These permanent markers are known to everyone as high-quality markers with bold lasting colors. 1234 PENS is offering a brand new deal to get these Sharpies customized with a logo, imprint or any text. Everyone loves Sharpie Pens. Now any company can put their logo or contact information on them. This is a pen that customers will keep with them to use over and over again. These markers are sure to make a permanent impression on a customer.
These are not ordinary Sharpie pens. 1234 PENS offers Sharpies in stainless steel, mini Sharpies and fine point. Sharpies come in over 15 different ink colors. One of the most popular types is the 'click and go' Sharpie at the push of a button - no caps, just click. Whether you own a restaurant, hotel, spa, tech firm, law firm or medical office - these are the logo pens clients love to keep. Custom pens are one of the most cost effective marketing tools to enhance brand imaging. Promotional pens, such as these custom Sharpies, remind customers of a company's name repeatedly and keep contact information at their fingertips. As a gesture of appreciation, clients love being able to keep the pen. Filling out forms? Keep the pen. Signing a receipt? Keep the pen. Signing many documents? Keep the pen. These Sharpies are rated as one of the most popular custom pens available. Everyone uses Sharpies.
1234 PENS has been working with clients in these industries for over 35 years is pleased to be offering the customized Sharpie pens among companies who want to enhance brand recognition among the customers in a very unique way. These high-quality advertising pens are a great mechanism for keeping any company's name in the hands of their clients as special gifts, during specific times of the year and in a personalized and effective way.
To view the Sharpie Pen line please sees the link below:
http://www.1234pens.com/sharpie-promotional-pens.html
About 1234 PENS:
1234 PENS has worked with over 300,000 customers increase brand awareness and customer loyalty through their high quality products. 1234 PENS can provide a company with quick and easy delivery within 48 hours to any city in the United States at no additional cost. To get more information about promotional pens and other printed promotional products, please visit the 1234 PENS website.