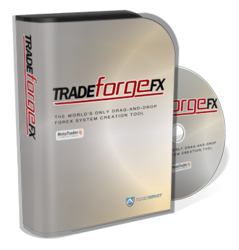 Austin, TX (Vocus/PRWEB) April 20, 2011
Sharptrade LLC is one of the leading information publisher's in the foreign exchange trading market. They have just released a software program called "TradeForgeFX" that allows users, with a drag and drop interface, to create their own trading systems.
Software developer Kevin Eaton, focused on the 3 biggest reasons for Forex trader's failure. He observes "One, a solid trading plan. Two, having the time to trade this plan and last, the ability to stick to your guns and trade your strategies without emotion or fear." The official TradeForgeFX website states it is closed to the public, but sign-ups are being taken here TradeForge FX sign up.
TradeForgeFX aims to take those reasons and fix them. With it a true drag and drop Forex trading system it is possible to create profitable Forex systems without knowing any programming. Built into TradeForgeFX is 1 button which allows users to trade the newly created systems live. The tool then automates the entire process. The automation is aimed at removing the emotion from trading. The process works as: test, track, continue trading systems that work.
This Forex trading system will hook into MetaTrader4, one of the largest free Forex trading platforms. Meta Trader allows users to watch the foreign exchange market and place trades on the fluctuation of different currencies value in relation to each other.
It empowers you to potentially skyrocket your trading ability far beyond what you thought possible. Trade Forge FX includes an impressive GUI that will allow you to visually build your systems (or simply load one of the 5 profitable ones we give you!). In addition, Trade Forge FX allows you to:
Test systems before trading them live, so the trading system can make fake trades and create reports of how they are performing. With one click set the system live. Once the system is live, if it is not profitable the Forex system can be "inverted" to flip the trades with one more click, this would potentially turn a negative trade into a profitable one. It comes equipped with a "remote notification" option for email and/or text message alerts. The lead programmer, designer and developer, Kevin Eaton, has created 4 hours of video to provide support for the users. The official website is TradeForgeFX, and signups are being taken at Forex Trading System.
Sharptrade LLC is an online publisher of Forex Trading information products.
###