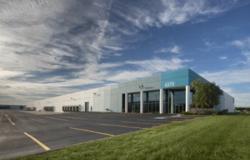 Columbus, OH (PRWEB) March 28, 2012
Hackman Capital announced today that Shasta Beverages has leased 156,800 square feet at 4370 Alum Creek Drive to accommodate its regional distribution needs. Since its founding in 1889, Shasta has been a beverage industry pioneer and family-trusted staple in America, with over 30 unique, innovative and distinctive soft-drink flavors ranging from Tiki Punch and Grapefruit Zazz to familiar favorites such as Creme Soda and Root Beer.
Shasta is part of the National Beverage Corp. family. A leader in the development and sale of beverage products in the United States, National Beverage offers a wide selection of flavored soft drinks, juices, sparkling waters, energy drinks and nutritionally-enhanced waters.
Shasta's recent lease brings up the occupancy rate to 70% at the high-image, 224,587-square-foot building, purchased by a Hackman Capital affiliate in April 2010. Hackman Capital is a privately-held investment firm that focuses primarily on the acquisition of industrial real estate and equipment. The Alum Creek purchase was the firm's entry into the Columbus market.
"We're not only thrilled to have Shasta as a tenant," said Michael Hackman, the firm's founder and CEO. "We're excited to be building our presence in Columbus." Michael Hackman, who has based the firm in Los Angeles, California, was born and raised in Columbus.
"Columbus is my hometown and a community to which I maintain strong ties," said Hackman about efforts to expand the company's footprint in the city. "Columbus has traditionally been a strong and economically diverse market. We will be looking to acquire more properties, here."
The Alum Creek facility was an ideal acquisition for the company, according to Hackman, because of its strategic location. "Situated a half-mile from the I-270 interchange and three miles from Rickenbacker Airport, one of the world's only cargo-dedicated airports, Alum Creek is perfectly suited for distribution users, like Shasta. Plus the building is first rate."
Among the building's other marketable features are an 11,560 SF, two-floor administrative office area, 22 dock doors with dock levelers, lights and seals, three drive-in doors, 27' clear heights, 40' by 40' column widths, upgraded T-8 lighting, a Cambridge Air Rotation System, ample power and other amenities.
The property is being represented by local listing broker, Rick Trott, at Cassidy Turley.
MORE ABOUT HACKMAN CAPITAL
Founded in 1986, Hackman Capital is a privately-held investment firm that focuses on the acquisition and management of industrial real estate. The firm is one of the few real estate companies in the country that also purchases and sells industrial equipment. Combining its unique entrepreneurial spirit with a highly disciplined investment approach and distinctive
dual-asset platform, Hackman Capital has achieved a successful track record in both real estate and equipment industries.
Hackman Capital has acquired more than $800 million of property on behalf of its affiliates, and currently manages a national portfolio of more than 50 facilities, exceeding 14 million square feet, and 950 acres of developable land. Hackman Capital also has conducted hundreds of equipment acquisitions, dispositions and liquidations on four continents.
Hackman Capital is based in Los Angeles, California and has satellite offices in Columbus, Ohio, Boston, Massachusetts and Kalamazoo, Michigan.
For more information about Hackman Capital, visit http://www.hackmancapital.com.
For information on leasing space at 4370 Alum Creek Drive, contact Rick Trott at
(614) 827-1715, richard.trott(at)cassidyturley(dot)com, or Jerome Hackman at (614) 252-0364, jhackman(at)hackmancapital(dot)com.