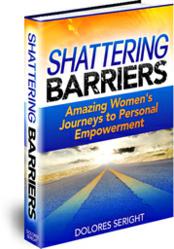 "Dolores took her experience as a professional coach and her wisdom as a woman and put together this magnificent guidebook for others to make the impossible, possible."
- Tracy Repchuk, Bestselling Author of 31 Days to Millionaire Marketing Miracles
Phoenix, AZ (PRWEB) October 20, 2011
Powerhouse women such as US Radio Host Christina Wagner reveal their innermost secrets and shocking revelations in a provocative new book released today, entitled 'Shattering Barriers' by Dolores Seright, the Author who set out on a hard mission to ditch all excuses that came her way.
'Come out with your hands up! The sun came up one morning to the sounds of concussion grenades slamming against the house, and the police on bullhorns screaming at the occupants of her home. As a dazed Christina came into the hallway, her two shaking children, wearing nothing but pajamas, cried out, "Mommy, is there a war?" Christina remembers saying "No, baby, there's not a war. We just need to go outside." She remembers walking outside to what, in fact, looked like a war zone. The street was lined with police cars and SWAT teams. Her boyfriend was taken into custody, the police took her children away, and then they took Christina in for questioning.'
Raw emotional empowerment in this except from 'Shattering Barriers' is mirrored across the new publication out today. 'Operation White Eagle . . . that is what they called the second raid on her house. Twelve homes were raided that day. Christina's picture was on the front page of the newspaper along with twelve other people who were arrested for credit card fraud.' This is a prime example of the heart-warming and sometime heart-wrenching stories of all the women featured.
Shattering Barriers is not a typical business book. It is an adventure, combining real life stories of real women with powerful lessons you can begin to use immediately. It shares the inspiring and motivating stories of amazing women who, literally, shattered barriers and overcame challenges that many people cannot begin to imagine.
Learn from Clarissa Burt, whose face has graced the covers of more than 250 magazines, how she "fights the demons every day" and Kassey Frazier, age fifteen, who went from being painfully shy at age ten to modeling, acting and having a popular radio show. The very private Marie O'Riordan tells how she was granted the final interview Mother Teresa gave before her death.
Author Dolores Seright states, 'for the women who desperately wish there was more to life than the one they are living right now and for whom the obstacles seem overwhelming and the challenges never ending - this book is a message of hope. For those whose dreams have gotten lost somewhere along their journey to today, this book will touch hearts and allow each of us to begin to believe in our own potential.'
Dolores Seright is a Professional Speaker and Certified Professional Coach. After being diagnosed with breast cancer in 2005, Dolores became passionate about changing her life's focus and supporting others through challenge and change. Leaving the corporate world behind, she chose to live life on her terms. Dolores travels the world in search of adventure and volunteers for Fresh Start Women's Foundation, empowering other women to improve their lives. She founded Women Who Sell Excel to train and coach women on mastering the skills to achieve success in their business and their lives.
World Exclusive contact details: 'Shattering Barriers' Author, Dolores Seright on 480-719-0648 or e-mail: Dolores(at)WomenWhoSellExcel(dot)com.
Shattering Barriers, by Dolores Seright (available on Amazon, October 19, 2011) Paperback, ISBN 9780983805809, $16.95).
(Courtesy photos attached).
# # #