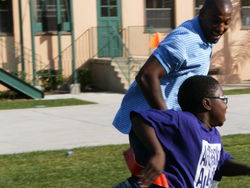 Shaun's support has helped San Diego After-School All-Stars expand its sports and educational programming considerably
San Diego, CA (PRWEB) October 4, 2010
Professional football players across the country have joined San Diego Chargers' linebacker Shaun Phillips in supporting After-School All-Stars, the leading national provider of high quality and comprehensive after-school programs, with the "Touchdown vs. Shutdown" sponsorship program.
Formerly known as "SP's All-Star Sack Attack," the program launched in 2007 when Shaun Phillips pledged to donate $1,000 to After-School All-Stars for every tackle or 'sack' he recorded. Finishing with seven sacks in the 2009 season, Phillips personally contributed $7,000 while local companies including The UPS Store and Scott and Cronin LLP matched the donation for a total contribution of $28,000.
The program has expanded its fourth season to include players on both sides of the field. In addition to defensive football players, offensive players joined the cause as part of "Team Touchdown," who will pledge donations based on yards or touchdowns, while defensive players on "Team Shutdown" pledge based on sacks or tackles. This year, the roster includes Phillips' teammates Stephen Cooper, Antoine Cason and Legedu Naanee, in addition to Matt Forte of the Chicago Bears, Wes Welker of the New England Patriots, Brandon Graham of the Philadelphia Eagles and more. Corporate sponsors are encouraged to match donations, while individuals can donate smaller amounts at http://tdsd.stayclassy.org.
"Football encouraged me to be successful in the pursuit of higher education, and I hope to give youth the inspiration and means to follow their dreams too," said Shaun Phillips. "Now with more players joining, we can tie our success on and off the field to something much bigger; I'm excited to expand this opportunity to share our victories with more students across the country."
"Shaun's support has helped San Diego After-School All-Stars expand its sports and educational programming considerably," said Tyree Dillingham, Executive Director of After-School All-Stars San Diego. "His involvement, along with other professional athletes, provides a great model to encourage our students to live up to their potential with confidence they will have the support to get there."
For more information on Touchdown vs. Shutdown, visit http://www.touchdownshutdown.org. To learn more about San Diego After-School All-Stars, visit http://www.sdafterschoolallstars.org. To donate to Touchdown vs. Shutdown, visit http://tdsd.stayclassy.org.
About After-School All-Stars San Diego
Founded by Governor Arnold Schwarzenegger in 1992, After-School All-Stars is the leading national provider of high quality, comprehensive, school-based after-school programs that include independent learning, academics, and enrichment. The organization's mission is to keep children safe and help them achieve in school and in life. More than 80,000 at-risk youth benefit from these programs in 13 U.S. cities: Atlanta, Chicago, Columbus, Dallas, Houston, Las Vegas, Los Angeles, New York, Orlando, San Antonio, San Diego, San Jose and South Florida. The San Diego Chapter provides after school programming in 20 school sites in the county, including elementary, middle and high school. As one of 14 affiliates of the national After-School All-Stars, the San Diego chapter is backed by best practices and a fifteen-year track record of giving children a safe after-school alternative while developing the skills to increase school performance and success in life. For more information on the San Diego chapter, visit http://www.SDAfterschoolAllstars.org.
About Shaun Phillips
Charisma and charm are expected in receivers and running backs. Philanthropy and diplomacy is the domain of the quarterback. But Shaun Phillips is proof that all these qualities can exist in one hard-hitting linebacker. Entering his seventh NFL season, linebacker Shaun Phillips has established himself as one of those confident yet understated work horses. He does his job effortlessly, while opponents study him nervously across the line of scrimmage. He seamlessly stepped into his role with the San Diego Chargers and made an immediate impact with 11.5 sacks, the second most by any lineman in the league. No doubt, this "secret" NFL talent is becoming a household name and in 2009 he was able to prove that with 59 tackles and 7 sacks. Phillips was selected by San Diego in the fourth round of the 2004 NFL Draft and described as a "steal" by the Chargers front office. He finished his collegiate career as Purdue's all-time leader in sacks with 33.5, and was named a second-team All- American his senior year. He has unquestionably exceeded the expectations that usually accompany a fourth-round draft pick. Phillips is a stellar pass rusher with explosive reaction and an incredible knack for harassing the quarterback. But he is not content to leave his accomplishments where they stand, and he continually strives to improve himself both on and off the field. He enjoys directly communicating with fans in social networks and has an active presence on Twitter with more than 359,000 dedicated followers. To learn more about Shaun, follow him on Twitter @shaunphillips95, or visit his official website at http://www.spf95.com.
# # #