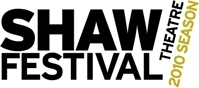 Niagara on the Lake, Ontario (Vocus) June 21, 2010
Morris Panych directs The Doctor's Dilemma, a comic piece that poses some very relevant questions: when medical resources are limited, should a doctor decide who receives treatment and should those who can afford treatment be the first in line to receive it?
With his usual distinctive wit, Shaw tests the humanity of a doctor and presents a moral dilemma. Sir Colenso Ridgeon (Patrick Galligan) has discovered a lifesaving cure, but faces an ethical quandary. With only enough of his new cure for tuberculosis left for one patient, who should he save? Dr. Blenkinsop (Ric Reid), a kindly colleague who serves the poor, or the extremely talented but unscrupulous young artist Louis Dubedat (Jonathan Gould), who also happens to have a beautiful young wife (Krista Colosimo)?
Also featured in the production at the Ontario theatre are Michael Ball as Sir Patrick Cullen and Thom Marriott as Sir Ralph Bloomfield Bonington, with Wade Bogert-O'Brien, Catherine McGregor, Patrick McManus, Kelly Penner, Cherissa Richards and Jonathan Widdifield.
The Doctor's Dilemma has set design by Ken MacDonald, costume design by Charlotte Dean and lighting design by Alan Brodie. The stage management team includes Stage Manager Dora Tomassi and Assistant Stage Manager Leigh McClymont.
First performed on November 20, 1906, at the Royal Court Theatre in London, The Doctor's Dilemma has had three previous incarnations at the Shaw Festival — in 1969, 1991 and 2000, directed respectively by Dillon Evans, Paul Lampert and Christopher Newton.
The Doctor's Dilemma began preview performances on Thursday, June 10, opens Friday, July 9 and plays in repertory until Saturday, October 30. During the preview performance period patrons can take advantage of special rates on tickets to The Doctor's Dilemma as well as other Shaw Festival performances.
Shaw Festival set amongst the beautiful Niagara wine region and surrounded by an array of Niagara-on-the-Lake attractions. Visit the Shaw Festival website for Niagara-on-the-Lake packages, accommodations, and travel information.
The 2010 Season also includes Harvey, An Ideal Husband, The Women, The Cherry Orchard, John Bull's Other Island, Age of Arousal, One Touch of Venus, Half and Hour and Serious Money.
The Doctor's Dilemma is sponsored by Bell.
Book by calling 1-800-511-SHAW (7429) or locally 905-468-2172 or online at http://www.shawfest.com.
About the Shaw Festival Theatre
In the spirit of George Bernard Shaw, the Shaw Festival provokes the mind and stirs the soul through a theatre experience so compelling that, year after year, ever-broadening groups of artists, audiences and supporters are drawn to our work in Niagara-on-the-Lake and beyond.
###