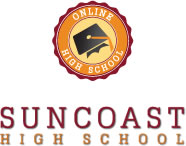 By joining SHCOE's online high school district, we will be able to offer an SACS accredited program leading to a high school diploma to the 60,000,000 individuals who visit EducationDynamics' Web properties each year
Pensacola, FL (PRWEB) September 20, 2011
Smart Horizons Career Online Education (SHCOE) has announced a large scale partnership with EducationDynamics (http://www.educationdynamics.com) to launch Sun Coast High School. The AdvancED/SACS accredited online high school division will give EducationDynamics a new option in their mission to serve adult learners seeking to further their education and career goals.
Established in 2009, SHCOE (http://www.shcoe.org) is the world's first AdvancED/SACS accredited online school district. The SHCOE school district offers online high school programs that allow students returning to the education process an opportunity to earn an 18-credit high school diploma, while also completing course work for a career certificate in areas such as Childcare, Transportation Services, Office Management, Homeland Security, Protection Services, and General Career Preparation.
Established in 2005, EducationDynamics has been a proven leader in helping higher education institutions find, enroll and retain students. The organization serves over 1200 colleges and universities of all types and has maintained its industry leadership through a philosophy of serving schools by serving students first.
"EducationDynamics is extremely pleased to be associated with SHCOE," said Richard Capezzali, Executive Vice President for EducationDynamics. "By joining SHCOE's online high school district, we will be able to offer an SACS accredited program leading to a high school diploma to the 60,000,000 individuals who visit EducationDynamics' Web properties each year. Many of these visitors are seeking higher education but lack the requisite high school diploma needed to access a college or university. It is our hope that providing the opportunity to earn a high school diploma online will be the motivation to further their education at one of the thousands of schools served by our Web properties Elearners, Education Connection and Earn My Degree."
"EducationDynamics has a history of providing higher education options for first-generation college students," said Richard Goldman, SHCOE's Chairman of the Board. "With the new Sun Coast High School division, EducationDynamics can expand its focus by providing assistance to the millions of students who aspire to post-secondary educations but who lack an accredited high school diploma."
Once they have completed the high school diploma portion of their Sun Coast coursework, students who enroll in Sun Coast High School will also be eligible to enroll in a program that allows them to "test drive" an online post-secondary course and earn real college credit, at no cost or obligation. This innovative and unique opportunity can save students up to $2,000 in tuition costs if credits earned are applied toward a full degree.
About Smart Horizons Career Online Education
Smart Horizons Career Online Education, founded in 2009 and located in Pensacola, Florida, is a private, AdvancED/SACS accredited online school district. AdvancED/SACS District accreditation signifies that SHCOE and all of its schools are fully accredited and that SHCOE is recognized across the nation as a quality school system. Smart Horizons Career Online Education offers 18-credit, career-based high school diploma programs that are designed to prepare students for entrance into the workplace. Career certificate offerings include Childcare Education, Office Management, Protection Services, Homeland Security, Healthcare (coming in Fall 2011) and Transportation Services. For more information, visit our website at http://www.shcoe.org, call our office at 855-777-4263 or email our office at enrollment(at)smarthorizonsonline(dot)org
Contact: Dr. Howard Liebman, Smart Horizons Career Online Education, CEO & Superintendent - 305-962-6489 or hliebman(at)smarthorizonsonline(dot)org
About EducationDynamics
Founded in 2005, EducationDynamics plays a crucial role in serving both students and post-secondary institutions. EducationDynamics helps each institution reach potential students by providing information about what the institution offers and also providing information that helps the institution tailor its programs and services to meet the needs of potential students. The organization currently helps more than 1200 colleges and universities - not-for-profit, for-profit, traditional, online, private, public, large and small - find, enroll and retain students. EducationDynamics is the number one provider of marketing support services to post-secondary education. Visit the Web site at http://www.educationdynamics.com
Contact: Mr. John Springer, Education Dynamics, Vice-President – 561-912-1849 or jspringer(at)educationdynamics(dot)com
###