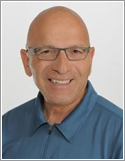 I am proud to be a part of this important and ongoing effort and look forward to sharing my experiences as an entrepreneur and an educator in this field with the 2013 graduating class of the University of Pittsburgh's School of Education.
Pensacola, FL (PRWEB) April 11, 2013
Dr. Richard Goldman, Chairman of the Board for Smart Horizons Career Online Education (SHCOE), has a pair of prestigious speaking engagements this month at his alma mater, the University of Pittsburgh. On April 25 he will address The Pitt Alumni Association, and on April 28 he will be the commencement speaker for the School of Education graduation ceremony. Dr. Goldman holds a Ph.D. in education, an M.Ed in education, and a B.A. in history all from the University of Pittsburgh.
Dr. Goldman said both speeches will focus on entrepreneurship, as well as on the employment opportunities that exist for graduates in the for-profit education industry. "Many of these students may not previously have considered for-profit education," he said. "But with annual revenues of $300 billion, it is an industry worth exploring—especially in this economy. It's a sector in which new graduates should think about establishing careers and possibly even starting their own businesses. A company such as SHCOE, for example, offers career opportunities for teachers, curriculum developers, and individuals with expertise in computer software and hardware."
Dr. Goldman is widely recognized for his 50 years of innovative work in the education field. He has been a leader in both secondary and higher education, serving as an educator and entrepreneur in many different organizations.
As a professor, Dr. Goldman taught at the University of Pittsburgh, University of Haifa, and Kent State University, along with serving as dean at Nova Southeastern University (NSU) for 20 years. While at NSU, Dr. Goldman helped develop the nation's first SACS-accredited distance education and Internet-based education programs for graduate students.
In addition to his leadership in founding SHCOE in 2009, Dr. Goldman was also instrumental in founding for-profit education companies such as Another Generation Preschools, the nation's 20th largest pre-school entity; the University of Miami Online High School, an online high school for athletes and entertainers; Virtual Sage, a curriculum design company; and The Sagemont School, a premier college preparatory school serving students from 35 countries. The Sagemont School was among the nation's first schools with a wireless and laptop program for all of its students.
Dr. Goldman is proud of the unique and important niche SHCOE occupies in the online education industry and says its success story demonstrates the opportunities that exist for new graduates within for-profit education.
"SHCOE provides learning opportunities for the 45 million adults in the United States who do not have a high school diploma—people who have been largely discounted by society," Dr. Goldman said. "It's a great example of a company that is trying to improve society through its presence in the for-profit education arena. I am proud to be a part of this important and ongoing effort and look forward to sharing my experiences as an entrepreneur and an educator in this field with the 2013 graduating class of the University of Pittsburgh's School of Education."
_______________________________________________________________________________
About Smart Horizons Career Online Education
Smart Horizons Career Online Education, founded in 2009 and located in Pensacola, Florida, is a private, AdvancED/SACS accredited online school district. AdvancED/SACS District accreditation signifies that SHCOE and all of its schools are fully accredited and that SHCOE is recognized across the nation as a quality school system. Smart Horizons Career Online Education offers 18-credit, career-based high school diploma programs that are designed to prepare students for entrance into the workplace. Career certificate offerings include Childcare Education, Office Management, Protection Services, Homeland Security, Healthcare (coming soon), Transportation Services, and Professional Skills. For more information, visit our website at http://www.shcoe.org, call our office at 855-777-4265 or email us at info(at)shcoe(dot)org
Contact: Dr. Howard Liebman, Superintendent of Schools, hliebman(at)shcoe(dot)org, 305-962-6489