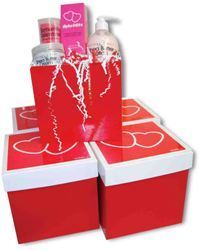 Southfield, MI (PRWEB) February 5, 2010
Reforma Group is announcing a special Valentine's Day giveaway to fans of their Creams N' Lotions Facebook page or followers of their Twitter handle, @100sheabutter. Winners will be announced February 10th at 2:00 P.M EST.
Five randomly selected winners will be given the "Keep your skin soft & naughty" gift basket filled with:

Shea Butter Body Lotion 'Strawberry Fragrance'
Foaming Bath Salt 'Rose Petals Essential Oil'
Shea Butter Cream 'Lavender Fragrance'
Women's Sensuous Stimulating Gel.
It can be difficult to decide what that special woman might want for Valentine's Day but worry no more because Reforma Group knows just what she's looking for. They have put together a romantic, yet original gift basket that allows a woman to indulge in all of her luxurious moisturizing needs. Women enjoy time to themselves, and once rejuvenated, find pleasure in showing the man responsible for their day of relaxation some instant gratification, so why not give a gift which satisfies both partners desires?
Some men may not have the time to come up with romantic gift ideas of their own and may rely on corner store chocolates or expensive gifts, neither of which have sentiment. A gift of hand & body lotion can be sexy and sentimental. Use it to massage all of those hard to reach places, creating memories and sensations neither of you will forget.
If a romantic gift idea that costs nothing other than time sounds interesting, then become a fan of Creams N' Lotions on Facebook or follow @100sheabutter on Twitter. Winners will be announced February 10th at 2:00 P.M EST.
This gift basket is essential to any couple interested in being intimate on Valentine's Day, so give the gift even Cupid isn't capable of giving.
About Reforma Group
Reforma manufactures all of its own products using natural ingredients and natural preservatives. All products are mineral oil free, hypoallergenic, and paraben free. Visit http://www.creamsnlotions.com to learn more.
###