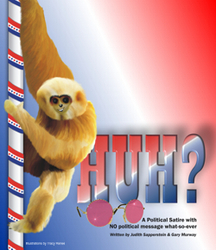 I knew the moment I read the script and the lead sheets that this would be an amazing performance for our July 4th crowd. The topic is current, the humor is genuine and the music is delightful and memorable
Doylestown, Pennsylvania (PRWEB) April 5, 2009
Bucks County's own J&G Unlimited, playwrights and musical composers, announced today the signing of an agreement with the Sheboygan Theatre Company in Sheboygan Wisconsin to perform the musical, HUH?™.
Each year, the Sheboygan Theatre Company hosts a performance for their community, sponsored by the City of Sheboygan. This year, they have chosen to perform for their audience of 2,000 theatre lovers, the political satire called HUH?.
HUH? is a new musical production about a generic presidential election with absolutely no political message. It's just a funny trip through the events of a typical presidential election ... a good laugh at the antics of the candidates, their staff, the spin doctors and the press. Do not bring your political opinions because none will be offered up in return.
"I knew the moment I read the script and the lead sheets that this would be an amazing performance for our July 4th crowd. The topic is current, the humor is genuine and the music is delightful and memorable," states Ralph Maffongelli, Director of Theatre. "With my past experiences with playwrights, I was a little concerned at Judith's reaction when I asked for a few minor changes due to the stage on which we'd be performing, but she was so easy to work with that it turned out to be no big deal and we're off and running," Mr. Maffongelli concluded.
"It was humorous actually, I was about to call Ralph to confirm he received the script by 6pm the day before, when it was scheduled to arrive, and all of a sudden my phone rang. It was him, he'd already read it ... twice ... and was very excited," includes Judith Sapperstein, President and author/composer of HUH? "We discussed his needs due to the venue, we discussed a few other business issues and ... suddenly ... we were in business together, all of us here at J&G were and still are extremely excited," finishes Judith.
HUH? can be seen on July 4th at 4pm in Sheboygan Wisconsin in Fountain Park located on the corner of Ontario Avenue and 9th Street. Come meet the writers/composers, Judith Sapperstein and Gary Murway and the illustrator Tracy Renee after the show.
About J&G Unlimited, LLC:
J&G is a creative group located in Bucks County Pennsylvania, focused on creating humorous, clean, quality entertainment for audiences of all ages. Bloomin™ is the first in their line of offerings, geared to a family oriented audience and focused on environmental goodness teaching through humor. Other productions include HUH?™, a political satire with absolutely no political message what-so-ever; Feet™, a comedic view of the history of dance; and Laime Inventions™, a funny story about a nasty turn of the century man who wants to take credit for other people's inventions. For more about J&G and a complete listing of plays and musicals available to lease directly from J&G, please visit them on the web at http://www.JandGUnlimited.com.
About The Sheboygan Theatre Company:
With 2500 Season Subscribers, over 300 participants and two professional theatre artists employed full-time, the organization now mounts five productions and a free, outdoor, July 4th performance each year. While recent successes such as Seussical, Beauty and the Beast, Into the Woods and Titanic have provided artistic challenges, standard productions of everything from Christmas Carol to Odd Couple and Arsenic and Old Lace have pleased audiences for decades. The Sheboygan's website is located here: http://www.SheboyganTheaterCompany.com.
###