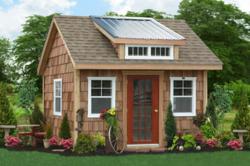 It used to be that a storage shed was a storage shed.
Baltimore, MD (PRWEB) April 23, 2013
"It used to be that a storage shed was a storage shed," says design and marketing manager at Sheds Unlimited INC of Lancaster County, PA. But increasing competition is opening the way for creativity at this PA storage sheds builder of twenty-five years. The new season comes with fresh ideas for portable office spaces, more choices for portable garages and a growing list of options to make every storage shed from this Pennsylvania family-owned and operated company a special piece of art.
When Sheds Unlimited began producing storage sheds on the family farm over twenty-five years ago, they built only wooden storage sheds. For several years, that was the norm until vinyl storage sheds began to take hold. Next, the growing family business added a line of Classic Storage Sheds which sport wider overhangs, a steeper roof pitch and a few other fancy features to make the building stand out from the rest. But there was more to come!
In the recent years, this Amish-Mennonite operated business expanded their line to include two story storage sheds, modular garages and recently the most outstanding of all, the Premier Garden Storage Sheds. These backyard garden storage sheds, claim the Sheds Unlimited managers, are among the most beautiful garden storage sheds and portable garages built in Lancaster County, PA.
Other recent additions have been a line of swimming pool house sheds that have been a real hit for customers preparing for the hot summer weather and modular office shed options for delivery in PA, NJ, NY, CT, DE, MD, VA, WV and beyond. Enter the two story modular office at Sheds Unlimited and one might forget that he is in a portable shed. This building is massive! Two full floors with large dormers on the second floor to create a wide open space. The portable office shed is finished out inside with beautiful natural wood installed at an angle, a small bathroom and a good sized conference room on the second floor. Five or six office personnel sit in their office pods and answer calls from storage shed customers all over the northeastern part of the United States. It truly is an amazing work of art! And, it is truly modular.
Along with the growing line of products, Sheds Unlimited has experienced steady sales growth every year for the last number of years. And nearly all of those sales have been internet related sales direct to customers within 300 mile of this Amish Country PA storage sheds builder. "Most of our customers never actually visit us before purchasing a storage shed," reports one of the managers in the office, "they simply find us online and call in to place a storage shed or portable garage order."
Even those buying two story sheds or two and three car garages might never set foot on the crowded manufacturing facility within feet of the new prefabricated office building on the property. Some might spend tens of thousands of dollars without ever visiting the small farm based operation sixty miles west of Philadelphia. And reading the Sheds Unlimited Shed and Garage Reviews shows they have a large number of satisfied customers. Nevertheless, some customer opt to visit the business and might drive all the way from New York City just to see the storage sheds and portable garages offered by Sheds Unlimited INC.
And while the economy might seem a bit unstable to many of us, Sheds Unlimited is hoping to expand into a new and bigger storage shed facility in the next few years. They have just begun working with the Salisbury Township on a plan to building a new manufacturing facility on the home family farm. "We are hoping and praying for more good years ahead!" says Chris Stoltzfus, an owner and manager in this growing family owned corporation.