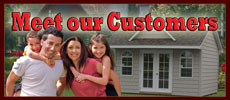 We realize the importance of good customer rapport and are doing our best to create a strong base of happy customers who will come back to us and recommend Sheds Unlimited to their friends and neighbors
Lancaster, PA (PRWEB) November 26, 2012
"It is hard to find a real family owned customer service business anymore like yours" writes a recent customer on the new Sheds Unlimited Reviews page. The new storage shed reviews page has been getting a lot of recent attention. Joseph is only one of many who over the past several weeks have shared their experience of purchasing storage sheds or a prefab car garage from Sheds Unlimited in Lancaster County, PA.
For over two decades Sheds Unlimited has been manufacturing and shipping storage sheds and prefab car garages throughout the northeastern part of the United States. But the recent addition of a storage shed reviews page has customers raving about their sheds and garages. Read through the glowing five star opinions on the Sheds Unlimited reviews webpage and you will almost certainly be convinced to buy from this family owned and operated small business. In fact, only two of the reviews show less than a five star and those for only minor issues which were either misunderstandings or easy fixes.
Several customers talk about the delivery process which was seamless, others rave about the cheap pricing and still others discourage customers from wasting time looking to other builders as they did. "Don't bother shopping around for price and quality as I did," says one customer "These guys are the best!" Another writes about the delivery man who was "like a family member the way he was concerned with proper placement...he wanted it placed correctly almost, if not more than me!!" writes Pat, another customer with an extensive five star review of Sheds Unlimited.
Quality customer service and quick repairs are another outstanding feature of several of the newest garden shed reviews on this growing list of satisfied ratings. Adam writes that the door shipped with his storage shed kit was not exactly as he had imagined. "I contacted customer service," he writes, "and they offered to drive up the right doors the next day and exchange them." He goes on to describe his shock that they would offer to replace the doors over what seemed "a misunderstanding during the ordering." A broken door latch was also quickly resolved by the customer service department at Sheds Unlimited. His garden shed review shows the level of satisfaction with Sheds Unlimited.
Kathryn describes her situation of receiving a storage shed kit two days before a scheduled gathering of 100 people in her backyard. "I was a bit nervous with all the preparations...and a shed kit sitting in my driveway." But the problem was resolved when the driver offered to go the second mile and help carry the kit into the backyard! "It was enough incentive to start assembling it the next morning," she writes. The next morning, two men and two hours was all it took to have the shed assembled before the influx of people. "I love my shed," says Kathryn as she expresses her gratefulness to the driver who helped make the process even smoother.
Sheds Unlimited is unique in that nearly all of their garden shed and prefab car garage sales come in through the internet and recommendations of other customers. "We realize the importance of good customer rapport and are doing our best to create a strong base of happy customers who will come back to us and recommend Sheds Unlimited to their friends and neighbors," writes Chris Stoltzfus, the middle son of the family owned and operated company. Although not every customer could write such great reviews, the company strives for customer satisfaction.
Sheds Unlimited is a direct marketing storage shed and PA prefab car garage company which has been in business for over twenty years. Their approach of selling Amish sheds and garages in PA, NJ, NY, CT, DE, VA, WV and other surrounding states is unique in that they sell nearly all of their sheds and barns direct to customers. The newest Sheds Unlimited Reviews page shows that they are doing their job well. And while you are checking out their reviews, take a look at the ALL NEW car garage ideas catalog and request a free copy.