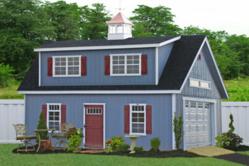 The "Like a Shed" program is designed to offer their prefabricated outdoor barns and sheds to a broader range of friends and their "friends" via social media.
Lancaster, PA (PRWEB) February 25, 2012
Sheds Unlimited Inc of Lancaster County PA announces the beginning of a the "Like a Shed" drawing for March 2012. In order to enter the contest one simply needs to visit their outdoor utility sheds website before March 31, 2012 and "Like" their home page or leave a comment on the manufacturer of Wooden Barns and Sheds Facebook page. The two winners will be awarded a $50.00 gift card to either Cafe One-Eight in Lancaster, PA or Outback Steakhouse.
The "Like a Shed" offer is one of the many ways Sheds Unlimited continues to expand their presence online and offer their barn storage sheds, outdoor utility buildings and wooden barns and sheds to folks throughout Pennsylvania, New Jersey, New York, Connecticut, Delaware, Maryland, Virginia and beyond. A Sheds Unlimited associate reports that the "Like a Shed" program is designed to offer their prefabricated outdoor barns and sheds to a broader range of friends and their "friends" via social media. The increasing importance and use of social media is a great way to let friends and friend of friends know about quality outdoor barns, backyard sheds and prefab car garages available direct from this manufacturer in the Amish community of Lancaster, PA.
The manufacturing of outdoor utility buildings is a decades long tradition of the Sheds Unlimited Stoltzfus Family. In the 1990s their family business began by producing a few small barn sheds on their fourth generation family farm. With the fifth generation now living on the farm, they continue producing quality wooden barns, outdoor storage sheds and prefab attic car garages in the shed manufacturing shop next to the old dairy barn.
During the years when economic times were robust, Sheds Unlimited's family workers built barn storage sheds and prefab car garages in small numbers. Then, just as the economy began to suffer, Sheds Unlimited began with a minimal presence on the Internet. The middle son of five built a website to offer their outdoor utility buildings to customers from Pennsylvania to New Jersey and beyond. Internet sales were slow in the beginning, but before long the barn storage shed website became a major factor of growth. Customers from Virginia, Connecticut and even Long Island, New York began to discover the quality outdoor storage sheds and vehicle garages which Sheds Unlimited offered direct to their customers. During tough economic times customers experienced huge savings by purchasing a wooden barn or outdoor utility shed direct from the manufacturer rather than from resellers in their local communities.
For almost a decade now, Sheds Unlimited has been increasing its direct sales of outdoor storage sheds and attic car garages via their online presence. Rather than depending on barn storage shed resellers in other states as does much of their competition, Sheds Unlimited offers their wooden barns, vinyl outdoor storage sheds and prefab one, two and three car garages to folks hundreds of miles from their manufacturing facility. In addition, Sheds Unlimited recently began a robust online campaign to offer outdoor storage shed kits and wooden barn and shed kits to customers across the continental United States.
After two decades, the small family owned outdoor utility barn builder continues the Amish tradition of quality workmanship, economical storage solutions and ongoing customer service to a broad range of folks in PA, NJ, NY, CT, DE, MD, VA and beyond. And as they have through all the tough economic times, Sheds Unlimited relies almost entirely on leads generated through their online presence. The March 2012 "Like a Shed" outdoor storage sheds campaign is just another opportunity for folks across the Sheds Unlimited delivery area to find ways to save hard earned dollars in an ever tightening economy.
# # #