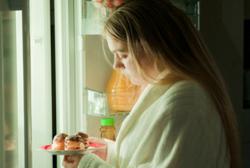 It begins with will-power, something only you can control, and there's no place more important to exert your will-power than at the grocery store.
Fort Lee, New Jersey (PRWEB) June 16, 2013
June 14, 2013 – Obesity has become a national epidemic, and many Americans who want to lose weight and begin eating healthier don't know where to start. In the June 14, 2013 blog from ShedThoseLbs.com titled "Stocking up on Healthy Foods is the First Step to Weight Loss Success," guest blogger Liz Ernst offers some tips for adopting healthier eating habits that can last a lifetime.
According to Ernst, the key to understanding healthy eating habits is to understand how society adapted to unhealthy food choices to begin with.
"Modern Americans have adapted to a diet laden with carbs, salt, and fat, even though our bodies are not efficient at shedding the excesses these foods leave behind," Ernst says. "Our ancestors thrived on meals of natural foods that fed them the proteins and nutrients necessary to hunt, fish, perform heavy manual labor and survive with maximum productivity.
"Only in the past 50 years or so, since the advent of fast food and increased production of high carb drinks and treats took on a life of its own has man learned the consequences of eating to satisfy empty calorie cravings."
Unlimited access to carb-laden foods does not change the limitations of human biology, and as a result Americans are eating foods that their bodies simply cannot metabolize properly. Now a nation with an obesity epidemic that gets worse every year, Ernst suggests that individuals gather their will-power and make a concerted effort to resist cravings for high carb, high fat foods.
"It begins with will-power, something only you can control, and there's no place more important to exert your will-power than at the grocery store," Ernst says.
The first rule is to never go grocery shopping hungry, as countless studies have found that shopping for food on an empty stomach leads to purchasing unhealthy foods. The hungry brain responds to carbs differently than a satiated brain, so it makes sense to fill one's stomach before filling the grocery cart.
People who are serious about changing their eating habits and those of their family will learn to stock their shelves with only healthy food choices, removing the ability to succumb to late night carb cravings when there's none in the house.
"If you think you can't learn to love healthy foods, wait until the first time you discover you can satisfy a food craving with a healthy serving of fruit or veggies, a lean piece of meat or a chicken salad," Ernst says. "Before you know it, those are the foods you'll be craving.
"In fact, as your body loses weight, your energy levels improve, your sleeping habits stabilize, your body becomes regular, your skin clears up and you feel like a healthier, happier person, those old carb-filled cravings will vanish."
For more information, visit the ShedThoseLBS.com website or email info(at)shedthoselbs(dot)com.
About Marble Media LLC:
Marble Media LLC is a creator of high-quality, content-rich blog sites that provide expansive coverage of relevant information to readers who make up a wide range of demographics. The Marble Media LLC team of expert writers covers a wide range of specialties including travel, food, health, fitness, social media, marriage, parenting, technology, weight loss, fashion and much more.
For more information on Marble Media LLC's offerings and advertising opportunities, visit the MarbleMediaLLC.com website, or email sales(at)marblemedia(dot)com.
###