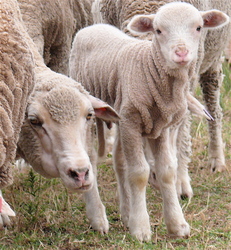 Adopters tell us a sheep is the perfect gift for the person who has everything. One woman's brother-in-law got misty-eyed and emotional on seeing his adopted sheep's photo on their certificate
(PRWEB) December 16, 2007
Lambs from Australia are being sent as gifts via e-mail this holiday season as part of a unique adoption program.
"We call them 'Miracle Lambs' because it is a miracle that they were born," says Michael Kiely, a woolgrower from Gulgong, 400 kilometres from Sydney. "Last Christmas, after we ran out of grass and ran out of money to handfeed our flock, more than 1,500 families and individuals 'adopted' our sheep to save them from the slaughterhouse by paying for their feed. These lambs are proof that miracles do happen."
Gift givers are able to adopt an Australian sheep, name it and dedicate it to the intended recipient, who gets a certificate which shows the adopted sheep, its name and the name of the gift recipient. These certificates can easily be sent via e-mail and printed out at the recipient's end.
People from all over the world adopted Michael Kiely's sheep, including people from the USA, Germany and Britain. Adopting "sponsors" can visit their sheep at the farm, send them e-mails and get a response, and even buy their fleece. "One adopter in Britain came out of a coma after hearing a message sent by their adopted lamb," says the farmer.
Now that the rains have returned and the worst drought in living memory is receding, the Kielys are using the money contributed by adopters to "drought-proof" their farm and rebuild their pastures.
The farmer also discovered that "virtual sheep" are popular with adopters for many reasons other than giving a helping hand. "Adopters tell us a sheep is the perfect gift for the person who has everything. One woman's brother-in-law got misty-eyed and emotional on seeing his adopted sheep's photo on their certificate," he says.
It solves many gift-giving problems: One gentleman ordered 21 adoptions -- one for each of his children and grandchildren. He said he usually agonises for days and weeks over what to give. But he did all his Christmas shopping in only a few minutes on http://www.adoptasheep.com.au. Because it is e-mailed, it is also perfect for last minute emergencies.
Some people have a family history in the wool industry that they want their children to know about. "One lady said she wanted her children to learn about sheep, because she had grown up on a wool growing property. Children can be engaged in the story of their sheep, and learn about the wool industry and its role in building Australia. Adopters can request a sample of fleece and can read about the flock on our blog sites," says Michael Kiely.
Some families are trying to reduce the focus on "getting gifts" by giving the money they would have spent on a gift to a charity or a cause on behalf of the recipient. "One lady said she liked giving sheep because the person getting it felt they were getting a gift while at the same time making a contribution," says Michael Kiely.
Adopta Sheep was such a success that the farmer published a 'how to' for other farmers to use the same technique on http://adoptasheephowto.blogspot.com . "There are many adoption schemes now: you can adopt cows, wallabies, chickens and even mongooses," he says.
"It's a great way to bring city people closer to country people. We have 1,500 new family members and many of them visit and help out on the farm."
For more information:
Michael Kiely
"Uamby" via Goolma, NSW 2852 Australia
Michael@newhorizon.au.com
Telephone (612) 6374 0329
http://www.adoptasheep.com.au
http://www.adoptalamb.com.au
http://envirofarming.blogspot.com
Stories From The Adopta Sheep Files
Story 1:
"Not long after she adopted Benny the little male lamb, Mary wrote us in distress. Benny had been named for Ben, a distinguished London gentleman with a passion for cricket and a love of Australia. Ben, it appears, had fallen into a coma, suffering from an exotic, disfiguring disease. Would Benny send him a few words of encouragement?
"I tried to break it to Benny gently because sheep die easily from stress. I slipped it into the conversation like this: (The English Cricket Team were touring Australia at the time and were getting a hiding.)
"Me: 'Benny, I heard today that Ben is feeling ill.'
"Benny: 'How bad is he?'
"Me: 'He's about as crook as English Cricket…'
"Benny: 'No one could be that crook…'
"Well I retold this tale to Mary who sent it over to London where Ben was in his coma. A friend read it out to him. No one can say that Benny's remarks did it, but within a few days, Ben came out of the coma. The English Cricket Team came out of their's during the next Test Series in Britain."
Story Two: Selling sheep on the streets of Hamburg
Four German children, hearing about the drought in Australia, took to the streets. Jelena, Jana, Robert and Leonie made little sheep out of chestnuts, cotton wool and toothpicks. They sold these little sheep to the people in the street, telling the story of starving sheep in Australia. They raised enough to adopt two new lambs, one named Happy and the other one Rudie.
# # #