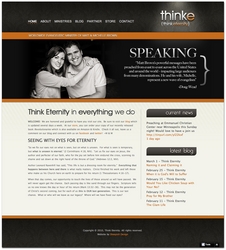 Churches no longer have to choose between boring templates or expensive website firms.
Minneapolis, MN (PRWEB) March 18, 2010
The new frontier of church website design has arrived with companies like Sheepish Design. Gone are the days of hiring expensive website firms or using bland templates. With platforms like Squarespace, companies similar to Sheepish Design are able to design church websites at an affordable rate which look amazing. The Squarespace platform allows for unique church website designs and easy content management.
Sheepish Deisgn founder Luke Frederick built the company around this new trend of website platforms. Squarespace allows their designers to create church websites with robust functionality at a fraction of the cost. The savings are passed on to the Churches, eliminating the days of expensive websites. "Churches no longer have to choose between a boring template or expensive firm. We are the new church website solution which finally meets their needs and budgets," says Luke Frederick.
This new trend of website companies leverage themselves on existing solutions like Squarespace, allowing them to focus on the message and design needs of their clients. All the content management support is done by Squarespace, ensuring the development is in good hands. With this new trend of website platforms, companies like Sheepish Design are able to bring affordable church websites with clean design and powerful backends.
###