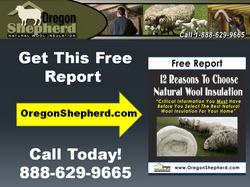 Apparently we are doing something right because our sales have continued to grow at a very rapid pace" Bob Workman
Rainier, OR (PRWEB) February 24, 2011
Oregon Shepherd, a leading sheep wool insulation producer is proud to announce it has moved into a new 18,000 square foot manufacturing and distribution facility in Rainier, Oregon.
According to Bob Workman, general manager at Oregon Shepherd, "The last 12 months has been incredible for us in terms of streamlining our manufacturing process, getting the word out through our marketing efforts and executing on our overall strategic plan. Apparently we are doing something right because our sales continue to grow at a rapid pace."
"Rainier is a great place and the city made it very easy for us…we're glad to be here. We now have the means to keep up with current and future demand for years to come," continued Workman. "In addition to upgrading our manufacturing, we are also proud to welcome Kelly Donnelly to our sales and marketing team."
Donnelly, a seasoned veteran in both sales and marketing will be following up with builders, installers, remodelers and consumers. In addition, she will represent the company at trade shows, industry events and handling all media inquiries.
"I am excited about the opportunities here at Oregon Shepherd," said Kelly. "The products have a lot to offer consumers in terms of quality, ease of installation and of course being a renewable resource." "Even though this is a niche within the insulation industry, it is really poised for growth especially as remodeling and new home sales continue to improve."
About Oregon Shepherd, LLC
Oregon Shepherd, LLC was formed in 2003 by Joel Pynch and Margaret Magruder with the specific goal of expanding traditional markets for natural wool products. Workman was engaged in 2009 as a management consultant to develop the process, patents, and machinery to manufacture wool insulation for the US market. To learn more about PermaLoft® and PermaBatt® natural wool insulation contact Bob Workman at 888-629-WOOL(9665) or go to: http://www.oregonshepherd.com/welcome/
###