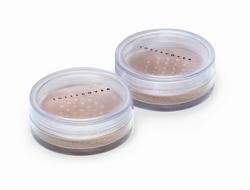 Sheer Cover unlocks your natural inner glow, and it's virtually goof-proof. You just brush it on and your flaws disappear- in an instant. That's why it's become a favorite of Hollywood makeup artists and beauty insiders as well as regular women who want to put their best face forward
Palm Desert, CA (PRWEB) October 9, 2009
Sheer Cover® Mineral Foundation has been awarded the coveted Shecky's 2009 Beauty at Its Best Award for "Best Foundation."
"The beauty experts at Shecky's really know their stuff, so receiving this award means a lot to us at Sheer Cover!" says Leeza Gibbons who introduced the line and has been the force behind it since its inception. "We believe your makeup matters and every day I hear from our Sheer Cover customers who agree and who share their stories of finding flawless complexion perfection through our mineral foundation."
Shecky's team of beauty editors reached out to their rolodex of beauty experts and the beauty-pundit-team comprising the Shecky's Beauty at Its Best Committee to select the best products in an array of beauty categories with more than 2,000 individual entries. Among only 300 products selected, Sheer Cover® Mineral Foundation is recognized by the Shecky's experts for being made with 100-percent pure minerals, having no preservatives, chemical dyes, fragrance, or talc.
"Sheer Cover unlocks your natural inner glow, and it's virtually goof-proof. You just brush it on and your flaws disappear- in an instant. That's why it's become a favorite of Hollywood makeup artists and beauty insiders as well as regular women who want to put their best face forward," said Gibbons.
The Sheer Cover® Mineral Foundation contains 100 percent natural minerals and provides a unique 4-in-1 formulation that provides a foundation, a finishing powder, sun protection (SPF 15), and anti-aging protection.
About Sheer Cover®
Sheer Cover® by Leeza Gibbons, is an elegant makeup line based around Sheer Cover® minerals which are 100 percent natural. Sheer Cover® Minerals are infused with skin soothing botanicals, natural sun protection, and anti-oxidant green tea to help protect your skin from the visible signs of premature aging.
Follow Sheer Cover® on Facebook to find out about new products, reviews and special offers.
For more information about Sheer Cover®, visit SheerCover.com
About Shecky's
Shecky's is an online and event destination for what's cool and undiscovered in FASHION, BEAUTY and FUN with the girls. From emerging designers to great beauty discoveries, delicious cocktails to free giveaways-- Shecky's offers a wonderland for girls to SHOP, SAMPLE & SCORE the world of things girls love.
###